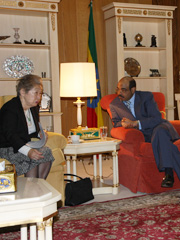 President Ogata meets with Ethiopian prime minister Meles Zemaw
Africa has made major strides in key security and economic areas, Mrs. Sadako Ogata, president of the Japan International Cooperation Agency (JICA) said.
JICA itself has also significantly strengthened ties with the 53 nation African Union (AU), had helped advance the concept of 'human security' on the continent and had, when necessary, moved more rapidly than in the past into post-conflict situations such as southern Sudan where she described the rebirth of the regional capital of Juba as 'exciting' and 'gripping.'
Mrs. Ogata made her comments Monday February 25 following an eight-day visit to Sudan—where she said her agency was exploring the possibility of expanding operations throughout the country—and neighboring Ethiopia where she placed particular emphasis on JICA's links with the AU.
Her visit also helped lay the groundwork for a major African summit meeting—the Fourth Tokyo International Conference on African Development (TICAD IV)—in May.
She said the two-nation swing had been a success in all of those areas.
Mrs. Ogata delivered a keynote speech at AU headquarters in the Ethiopian capital of Addis Ababa in which she strongly praised the organization's shift from a traditional political policy of 'non-interference' in the internal affairs of member states to one of 'non-indifference' – or a willingness to become actively involved and try to solve issues such as the conflict in Darfur or the political crisis in Kenya.
Positive but Fragile Change
"Africa has shown a strong desire to solve its own problems," Mrs. Ogata said. It is also "making efforts to realize the outstanding potential of its own people with self-reliant development." But she added: "Although Africa has achieved such significant change, the continent remains fragile and much work remains to be done."
JICA's own relations and operations with the African Union had been considerably strengthened in recent years and in post-visit comments she underlined the development of programs such as the 'One Village One Product' initiative aimed at stimulating rural economic growth in individual communities.
"We have developed concrete cooperation with the AU in the last four years," she said.
Mrs. Ogata met regional leaders including Sudan President Omar al-Bashir, Gen. Salva Kiir Mayardit, President of Southern Sudan and Prime Minister Meles Zenawi of Ethiopia.
She inspected several typical agency grass roots projects—a JICA supported hospital in Khartoum, the rehabilitation of Juba port and a vocational training center in that city and a program to boost rural education and community participation in Ethiopia.
She told President Bashir that after reopening its office in the Sudanese capital last year after an absence of more than a decade, JICA was currently exploring the possibility of undertaking projects not only in the south of the country but also in the north and east and even in parts of war ravaged Darfur in the west. JICA officials said the agency was also considering sending young volunteers to Sudan.
In Juba, Mrs. Ogata described JICA's current involvement as 'modest' but Gen. Mayardit said it was 'vital' to the region's regeneration.
Economic Miracles
The JICA president and Prime Minister Meles Zenawi discussed the so-called Asian economic miracle of recent decades and the lessons Africa could absorb in its own economic blueprint for the future. They agreed private enterprise as well as state sponsored initiatives were vital to Africa's economic progress. Ethiopia, though one of the world's poorest countries, in recent years has enjoyed a robust economic expansion of more than 11% annually.
The Ethiopian Prime Minister said he would attend the TICAD meeting in Japan and also a special symposium chaired by Mrs. Ogata.
The most compelling part of Mrs. Ogata's African visit was to Juba and she described the city's rebirth as both very 'exciting' and 'gripping' but nevertheless very fragile.
More than 2 million people died and more than 4 million fled during decades of intermittent civil war between government forces and rebels. The conflict ended in 2005 with a comprehensive peace agreement.
Since then Juba reputedly has become Africa's fastest growing city. The population increased from 250,000 to more than 1 million currently and hundreds of new arrivals are recorded each day. Government officials said as many as 2 million additional civilians may return to the region in the next couple of years.
Juba has taken on the appearance of a wild frontier town. The city has only a few kilometers of paved roads, but its deeply rutted dirt streets and new built hotels are clogged with government, UN, nongovernmental and global vehicles and entrepreneurs.
JICA recently helped rehabilitate the city's Nile River port, a vital transportation link to the outside world. Mrs. Ogata said this was an example of the usefulness of so-called quick impact projects 'QIPs' which are relatively cheap to implement, but which help reinvigorate local communities in the shortest possible period.
Quick Impact
Both as high commissioner for the UN Refugee Agency (UNHCR) and president of JICA, Mrs. Ogata said she was keenly aware of the so-called 'gap' in conflict areas between the end of emergency humanitarian aid and the start of long-term development assistance and QIPs were one way to bridge this divide.
One of JICA's most important innovations in recent years has been the introduction in its projects of the concept of 'human security' – a recognition that communities and individuals should play an increasingly central role in planning their own futures and shaping projects on security, health, education and jobs.
"The African Union has become much more involved, along with JICA, in promoting human security," Mrs. Ogata said. "Today the AU never talks solely about state security. It also talks about the need to help and protect individuals and their communities and this idea is now fairly widespread in Africa."
Most of the projects she visited incorporate the human security concept.
The education program in Ethiopia, for instance, is designed to encourage rural children to go to school, generally for the first time in the history of the local village. Ethiopia is one of the world's oldest countries, but its population has doubled in a couple of decades to 75 million people, most of them youngsters and there is only a 50% literacy rate.
In a four-year project which will end later this year, JICA helped establish pilot projects in 20 communities which helped build and administer four-classroom schools and encouraged their children to attend classes in basic subjects such as math and science.
In addition to encouraging long-term involvement, the dropout rate at these schools is less than 50% of the national average, officials reported.