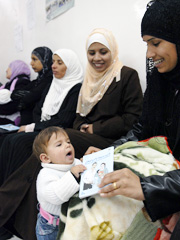 A mother and child health handbook is being distributed to tens of thousands of Palestinian families.
During a nine-day tour of Israel, Palestine and Syria, JICA President Sadako Ogata met Israeli Prime Minister Ehud Olmert and UN and Japanese officials before touring Jerusalem.
It was her second meeting with the Israeli prime minister with whom she held talks in Tokyo the previous week before embarking on her current visit.
During the weekend she is moving to the West Bank town of Ramallah before talks with Palestinian Authority President Mahmoud Abbas and touring JICA projects in the region before completing her swing with a visit to neighboring Syria.
The visit is part of Japan's continuing efforts to strengthen the Middle East peace process by fostering economic and social developments in the region.
Central to that process is a project, the Concept for Creating the Corridor for Peace and Prosperity, to promote closer ties between Israel, Jordan and Palestine. The 'Corridor' refers to the Jordan Valley, the dominant geographical landmark on the West Bank straddling Israel, Jordan and Palestinian territory.
JICA has launched three regional agricultural and water schemes as part of the project, including two feasibility studies to establish an agro-industrial park in the Jordan Valley and a related water resource development plan and a third project to strengthen the support system for sustainable agriculture.
Once a park and distribution center are established, Japan may finance a follow-up system to help transport agricultural products to overseas markets.
Another important JICA regional initiative has been the development and distribution among tens of thousands of Palestinian families of a mother and child health handbook which provides practical advice and basic information for pregnant women and new mothers. The handbooks also include a complete health record of each patient which is particularly important in conflict zones such as Palestine where women may sometimes have to seek assistance in clinics or hospitals unfamiliar with their histories.
The handbook is the first of its kind developed in Arabic and grew from an idea first formulated in Japan in the 1940s.
Mrs. Ogata will visit Syria March 9-13 to inspect environmental protection and water resource projects in addition to visiting a refugee camp.