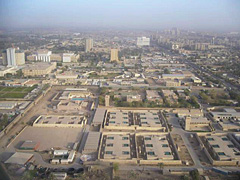 The view from above Baghdad
It has faded from world's daily headlines, but the country remains deeply wounded.

An estimated two million Iraq nationals are refugees in surrounding countries and several million of the country's nearly 29 million people remain internally displaced. Despite being potentially one of the world's richest oil producers, much of Iraq's infrastructure and agriculture is in a shambles.

"We have lost two generations of people because of years of devastating wars", Massoud Barzani, President of Iraq's Kurdistan Regional Government said recently.

JICA has been increasingly active in recent years helping nations such as Iraq which are emerging from conflict situations to rebuild both their societies and economies. It has been involved in projects in the Mindanao region of the Philippines, which still simmers from a civil war, Afghanistan, Liberia, Sudan and the Democratic Republic of Congo.

In 2003 Japan announced its commitment to help rebuild Iraq by pledging a total of US$5 billion in various forms of aid including technical cooperation projects, grant assistance (US$ 1.5 billion) and soft loans (US$ 3.5 billion).

Twelve yen-loan programs in such fields as energy, transportation, water, industrial infrastructure have already been undertaken, JICA has supported implementation of a grant aid projects as well as such technical assistance programs as helping to train some 3,500 Iraqis in various disciplines.
New Projects
Japan's ambassador to Iraq, Shoji Ogawa, recently announced three additional yen-loan projects totaling about US$850 million for a gas power plant in Anbar Governorate, a hydroelectric power program in Dohuk and water projects in Ninewa, Anbar and Salahuddin regions.

Those latest programs will virtually complete the allocation of US$3.5 billion in soft loans projected under the 2003 Japanese commitment.

In early October, Mrs. Sadako Ogata made her first official visit to Iraq as JICA President, though she had become intimately involved in the country's problems nearly two decades ago when, as High Commissioner for the UN refugee Agency UNHCR, she was responsible for helping the millions of people displaced in the first Gulf War.

Mrs. Ogata conferred with Iraqi Prime Minister Nouri al-Malaki and other top officials in Baghdad as well as traveling to the northern Kurdistan region of Iraq where she met President Massoud Barzani and other leading figures there.

Underlining its commitment to Iraq, JICA in March commenced dispatching three Japanese staff to a field office in the northern city of Erbil. These Japanese and two Iraqi staff, one of the agency's smallest field teams, converted the changing room of a local hotel swimming pool into an office and within a few weeks was fully operational.

Despite being best known as an international oil producer, the bulk of Mrs. Ogata's discussions focused on Iraq's agriculture, water and other basic infrastructure sectors.

Oil is extremely important to Iraq, President Barzani acknowledged, but he told Mrs. Ogata, "Agriculture does not end. We need (more) agriculture. We need comprehensive studies on water and irrigation, seeds, storage and food processing."

In Baghdad, Prime Minister Maliki also underlined the importance of both agriculture and education and requested JICA's ongoing assistance in such fields.

Mrs. Ogata said she was "happy" to continue what she called "some small things as an outsider, in order to help the Iraqi people."

She underlined that JICA's assistance thus far had concentrated on rebuilding parts of Iraq's basic infrastructure but suggested the time had now come to shift focus somewhat to projects directly helping communities.

"It is important to make sure that electricity, gas, water and health services reach the people who need them," Mrs. Ogata said.

JICA's Iraq representative Masaaki Matsushima said the living conditions of many Iraqis remained 'problematic' and one of his basic tasks in these early days of JICA's presence was to "have more in-depth discussions with Iraqi counterparts in Baghdad and the governorates to make sure that what we do on the ground is (really) meaningful."

Whenever possible, JICA projects worldwide are planned to involve local communities and officials in both the planning and execution phases and to ensure they receive the training necessary to successfully maintain the programs after Japanese experts leave.