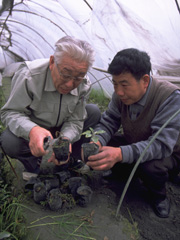 A Japanese expert helps in vegetable grafting techniques in China/ JICA
Mrs. Sadako Ogata was in Shenyang, the capital of Liaoning Province on Monday (November 30) on the first stage of a weeklong visit to China.

After her arrival on Sunday, Mrs. Ogata was visiting the China Medical University in Shenyang to observe language classes in Japanese, to talk with university teaching staff and officials and meet Chinese personnel who have attended various JICA training courses in Japan.

That training is part of a comprehensive scheme, reputedly the largest of its kind in the world, in which JICA and other Japanese organizations invite some 8,000 personnel from developing countries to participate annually in literally hundreds of courses covering fields ranging from medicine to the environment and agriculture.

After her visit to the Medical University she was then visiting a Center of Disease Control (CDC) to tour facilities using the latest equipment such as virus analysis devices and vaccine storage facilities provided by Japanese yen loans as well as holding a meeting with local health officials.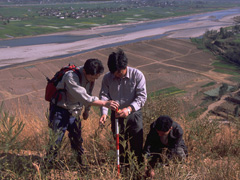 A JICA expert checks the growth of eucalyptus trees in China/ JICA
Later in the week, Mrs. Ogata will travel to Changchun, the capital of the northeastern Jilin Province, where she will meet with province officials and local personnel and view other projects which have received Japanese assistance.

In Beijing, she will meet senior government officials, deliver a lecture at the capital's Tsinghua University on 'Global Visions' and end her China tour by visiting a JICA project helping to improve the capital's environment before returning to Japan on December 5th.

JICA has been active in China for three decades, helping to promote both the country's rapid economic expansion and some of the major problems facing China.

Its current activities emphasize efforts to combat environmental pollution and the spread of infectious disease, the implementation of sound governance measures as China continues its transition to a market economy and the promotion of mutual understanding.