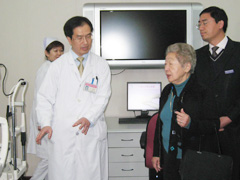 Mrs. Sadako Ogata received explanations of ophthalmic instrument in China Medical University
Mrs. Sadako Ogata was in northeast Jilin Province Tuesday (December 1) as she continued a week-long visit to China where she was reviewing various JICA projects and meeting local officials in addition to delivering a keynote address later in the week in Beijing.

Her schedule Wednesday called for her to leave Shenyang, the capital of Liaoning Province and travel to neighboring Jilin where, among other activities, she was scheduled to visit the Norman Bethune College of Medicine at Jilin University, meeting university and hospital staff as well as Chinese personnel who have attended various training courses in their particular specialties in Japan.

Tuesday she was scheduled to visit Changchun Institute of Technology and inspect laboratory equipment purchased by Japanese yen loans.

At the start of her visit in Liaoning Province she visited the China Medical University and a Center of Disease Control, meeting local health and university officials and trainees.

In Beijing she will deliver a lecture at Tsinghua University as part of that school's Global Vision series of lectures before returning to Japan Sunday.