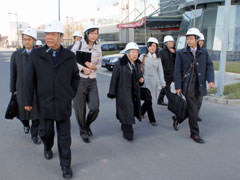 President Ogata visit Natural Gas-Fired Cogeneration Facility in Beijing City
JICA shared opinions with china to cooperate more closely together, particularly in the areas of the environment, strengthening China's legal system and mutual understanding, according to JICA President Mrs. Sadako Ogata.

Mrs. Ogata Tuesday (December 8) reported on her recent one week visit to China where she viewed JICA-related projects in Liaoning and Jilin provinces and Beijing, met a series of provincial officials, government ministers, experts in such fields as health and technology and delivered a speech on 'Global Visions' at Beijing's Tsinghua University.

After she return, Mrs. Ogata reported JICA and China discussed how to work closely together in the development field, particularly in three areas: improving mutual understanding, strengthening China's various legal systems and, in the environmental field, tackling such problems as water and aerial pollution, climate change, waste treatment and environmental education.

JICA and China also exchanged ideas how to work together on encourage greater private sector involvement in the development field.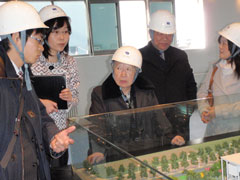 President Ogata receive an explanation of energy-saving equipment

Japan has been active in China itself for three decades and with assistance totaling some 3.6 trillion in yen loans, grant aid and technical assistance, helped the country to build some of its basic infrastructure such as ports, harbors, sewage plants, medical and technology facilities as well as providing equipment. Some 20,000 Chinese had also attended training courses in various fields in Japan.

Following her review of some JICA-related projects, Mrs. Ogata said not only was China highly appreciative of Japanese assistance in these fields, but she was impressed with the progress of younger mid-level staff she talked with who showed greater flexibility than in the past and who had forged closer personal ties with Japan.

She was also impressed with the students at Tsinghua University where she delivered her speech and said it was important to continue to strengthen these ties.

One government official, vice premier Li Keqiang emphasized during the visit that 'helping poor countries will become one of the main points of the new relationship between China and Japan.'

In China Mrs. Ogata looked forward to the next few years and said that in addition to ties between the two governments, it was time to strengthen links in other areas including local government, private companies, universities, non governmental organizations (NGOs) and the general public.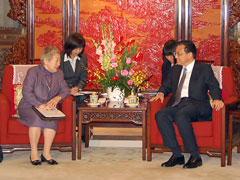 President Ogata had a talk with Chinese Vice Premier Li Keqiang on Thursday (December 3)
China and Japan should also liaise more closely in the international development field where the world faced increasingly critical problems such as climate change and the spread of infectious diseases.

Japan is one of the world's largest 'traditional' development donors, but Mrs. Ogata noted that as China's economy developed strongly in recent years it, too, was becoming seriously involved in development assistance to some of the world's most vulnerable people.

She has repeatedly emphasized for several years that key to combating these crises was closer cooperation between donors themselves, including newly emerging players such as China, India and Brazil and she took the opportunity of her China visit to re-emphasize this point.

JICA, for instance, is working closely with Asian and African nations to help transfer some of the experiences and lessons learned during Asia's recent economic and agricultural renaissance to emerging nations in Africa.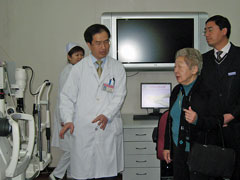 President Ogata receive an explanation of ophthalmic instrument in China Medical University
After Japanese experts and financial assistance helped transform swathes of Brazil's cerrado high plateau into an agricultural giant starting in the 1970s, the two countries recently announced a joint project to attempt a similar transformation in the southern African state of Mozambique.

China has been particularly active in Africa in the last several years and in the past Mrs. Ogata said she saw China as a partner and not a competitor in such areas.

Mrs. Ogata also emphasized to her audience the importance of 'human security' in JICA's work. It is a concept she helped develop in the 1990s which emphasizes the importance of ensuring the full participation of local communities in helping to develop and then receiving the full rewards of projects in such fields as health, education and poverty alleviation.

During her visit to the northeast, a vice governor of Liaoning Province, Teng Weiping, said JICA had been instrumental in ensuring the region's rapid economic development with its financial and technical assistance and looked forward to continuing support in such areas as science, technology, hygiene and environmental issues.

One of her last activities before flying back to Japan was to review JICA's involvement in a project to tackle environmental problems in and around the capital.