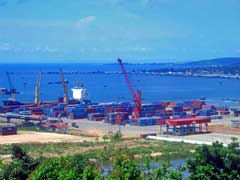 New JICA supported port construction in Viet Nam, part of the Asian 'economic miracle.'
The overall situation in Asia today is 'brighter than ever" but governments must be aware of fragile economic and social conditions particularly in cities and strengthen their efforts to prevent future downturns, according to JICA President Mrs. Sadako Ogata.

Her observations were contained in a speech, the 5th Annual Tsai Lecture, she was scheduled to deliver Friday (April 23) at Harvard University during a visit to the United States and South Africa.

Entitled Between Conflict Prevention and Peace Building: Evaluating International Responses as part of a symposium on the Prevention of Mass Violence and Genocide in Asia, Mrs. Ogata traced the changing face of conflict in the post Cold War era, the response of the international community and the specific situation facing the region today.

"The overall situation in Asia today is brighter than ever," she said in her prepared remarks, "as Southeast Asia becomes an important source of growth with deepening ties among China, India, Japan, Korea and the rest of the developing world."

Encouraging though that picture is "Asia still has fragility in its economic growth and society" the speech noted and she urged government that "More attention and research will have to address the challenge of deciphering signals that might lead to (future) downturns" particularly in cities with large slum areas.

Mrs. Ogata highlighted both the changing face of war in the last 20 years and efforts by the international community, including JICA, to meet those new challenges.

When she became High Commissioner for the U.N. Refugee Agency UNHCR in 1991 she envisaged her role as mainly one of repatriation and reintegration. But, she said, she had not envisaged that in the post Cold War era the very nature of water itself changed, producing "more diverse and complicated humanitarian crises."

The international community was not prepared to deal with wars--not among states, but among groups fighting over ethnic, tribal, communal and other social disputes.

Gradually, she said, in conflicts as diverse as Cambodia, the Balkans and Rwanda ad hoc solutions were devised but "I became intensely conscious of the existing limits of working exclusively on the humanitarian frontlines."

She recognized the need for reform in two major areas: bridging what later became known as 'the gap' between humanitarian assistance and longer term development aid following conflict and finding more innovative ways to help victims of war.

The so-called 'gap' developed because though humanitarian agencies such as UNHCR could quickly provide emergency health, food or even shelter requirements, development agencies needed more time for planning and funding to underwrite longer term reconstruction.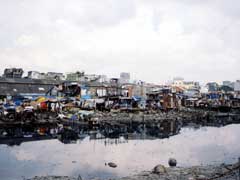 Urban slums should be closely monitored to prevent future social unrest.
She said the current situation in Afghanistan underlined the major strides which have been made to solve this problem. Following the fall of the Taliban regime, humanitarian and development agencies have worked closely together to return six million refugees to their homes.

JICA, where she became president in 2003 following her role as refugee high commissioner, "has also concentrated on filling the 'gap'" she said launching both social and economic projects in agriculture, health, education, rural development and a current program to rebuild and expand the capital, Kabul.

Though the current security situation remained one of 'grave concern' and peace is a long way off, Mrs. Ogata said in her remarks that a "more comprehensive, collaborative system seems to be in place, proving the possibility of reforming international action."

In directly helping the victims of violence, Mrs. Ogata said UNHCR and international scholars had developed a program she called 'Imagine Coexistence' designed to help repatriating groups, which only a short time earlier may have been deadly enemies, to begin to interrelate and then to work on joint projects---all the time building up a sense of a shared community.

JICA has now incorporated 'co existence' and 'reconciliation' components into its training and development activities among which it held a seminar in South Africa with that country's Truth and Reconciliation Commission.

Mrs. Ogata concluded by saying that with most of Asia enjoying economic boom times future "mass violence and genocide" were considered as unlikely in many quarters.

But she warned that governments should not be complacent. Economic and social soft spots remained. There are 50 million unemployed and one third of Asia's urban population lives in slum conditions.

Mrs. Ogata said that the concept of 'imagine coexistence' derived, not so much from international conflicts, but from the social tensions within these inner cities.

Governments have addressed some of the issues, but because of their very complexity and longevity, future progress is likely to be slow.

However, coupled with the another concept called 'human security' – which puts the security and well-being of individuals at the very center of international actions including developing assistance—"might we not resort to the notion of 'imagine coexistence' as the preventive concept to bring people together to learn to live together?" she asked.

"Going to school together; playing together and working together," she concluded, "people might better learn to share life together in this rapidly globalizing world of today."