The Japan International Cooperation Agency (JICA) is expected to strengthen its bilateral ties and global development work with key institutions in China and Korea following a four-day visit to those countries by President Mrs. Sadako Ogata.

She flew to Seoul September 1 and while in Korea held talks with President Park Dae Won of the Korean International Cooperation Agency (KOICA), President Dong Soo Kim of Korea's Export-Import Bank, former Prime Minister Han Seung-Soo and other government and academic officials.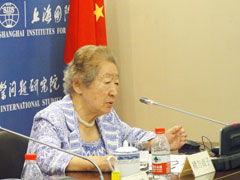 Mrs. Ogata answers questions from the audience following her Shanghai speech.
In Shanghai Friday she addressed researchers and graduate students at the Shanghai Institute for International Studies (SIIS) on the subject, Asia in the Era of Globalization and Prospects for Japan-China Relations.

More than 30 years ago Japan began to provide China with the first of some Yen3.6 trillion in loans, initially to improve its domestic infrastructure by building railroads, ports, power plants and later to promote environmental conservation, she told her audience.

JICA helped develop a survey for the urbanization of the Shanghai and Yangtze River delta region as that area became an economic powerhouse and has also accepted more than 25,000 Chinese for technical and youth training.

But while Japan continues to support domestic projects in such areas as water and air pollution control, climate change, reforestation, solid-waste management and environmental education, as China has emerged as a major player in the global economy, the two countries are moving closer together to help developing countries, Mrs. Ogata said.

Deputy Prime Minister Li Keqiang told her at a meeting in December 2009 that supporting the world's least developed countries (LDCs) was "one of the most important challenges in Chinese-Japanese Cooperation."

Mrs. Ogata said since then JICA and the Export-Import Bank of China had held a second joint workshop in March to discuss and share experiences on such issues as evaluation methods and climate change.

JICA has started discussions with the Department of Aid to Foreign Countries, Ministry of Commerce of China (MOFCOM) and will host a training program for staff members of that organization.

"We also plan to hold dialogue between agricultural experts of Japan and China in order to advance their capacities in carrying out agricultural assistance work in Africa," Mrs. Ogata told her audience.

The JICA president said "I would like to solicit closer collaboration with SIIS on a range of research and policy issues, especially with regard to the challenge of ensuring 'inclusive and dynamic economic development."

She was particularly keen to learn of the Institute's experiences in two key areas which the Shanghai region had recently experienced: protecting the environment in regions undergoing rapid urbanization and the growing disparity between rich and poor, particularly between urban and rural areas.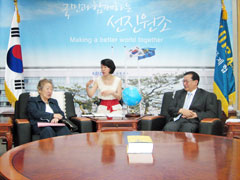 The President of JICA and KOICA discuss future cooperation during their meeting in Seoul/ KOICA
Earlier in her trip, Mrs. Ogata met President Dong Soo Kim of Korea's Export-Import Bank for the first time and it is expected that the first joint loan between the two organizations for a road project in Mozambique will be announced this fiscal year. President Kim also inquired about other joint loan projects in such countries as Viet Nam.

A tripartite meeting involving the Export-Import Bank of China will be held in October.

KOICA President Park Dae Won suggested annual meetings to plan joint projects in Asian countries such as Laos and Cambodia and administrative level talks will establish a meeting date within a year. The two presidents also agreed to promote the outcome of ongoing joint research with the Brookings Institution in Washington.

KOICA was established in 1991 with aims similar to those of JICA—providing technical and financial assistance to developing countries and during her stay in Korea Mrs. Ogata also visited KOICA's newly opened Global Village Exhibition Center, a center similar to JICA's own Global Plaza in Tokyo which provides information about the organization and promotes seminars and activities to highlight development issues.

KOICA officials said they had suggested to Chinese counterparts the establishment of an agency there similar to the Korean and Japanese organizations.