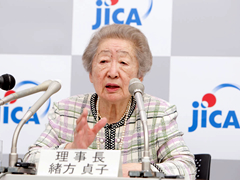 Mrs. Ogata speaks at the news conference
A focus on the field, human security, assistance for peace-building and for Africa, and organizational reforms.
These were the top issues that Mrs. Sadako Ogata touched on during a press conference held at the JICA headquarters in Tokyo on March 29, concerning her retirement as president at the end of March.
During her eight-and-a-half-year term as JICA president, she emphasized that JICA promote a field-based approach through, for example, allocating more staff to the field and introducing an overseas on-the-job training system for new staff, based on her own experience that the reality of people and communities cannot be seized without actually being close to them.
Concerning human security, Mrs. Ogata said that she insisted on the importance of giving consideration to socially vulnerable people, protecting them from diverse threats and empowering them to address such threats on their own. As a result, this concept is now incorporated into most of JICA's cooperation, she added.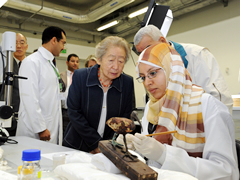 Mrs. Ogata visits the Grand Egyptian Museum Conservation Center in 2010
In the area of peace-building assistance, she mentioned operations in Afghanistan as one good model in her term. In the case of South Sudan, she said "JICA started the field survey in 2005 and constructed a river port in the capital of Juba, leading to the repatriation of people." Then she added that JICA provided vocational training and other comprehensive assistance for them.
During Mrs. Ogata's term, JICA greatly increased the proportion of its technical cooperation, ODA loans and grant aid to Africa. According to her, "It's because the Asian countries had significantly developed with Japanese assistance and more need for development existed in Africa."
In October 2008, the new JICA was launched through a merger with the Overseas Economic Cooperation Operations of the former Japan Bank for International Cooperation (JBIC). The new JICA is now implementing the aforementioned three forms of assistance under one roof to address issues of developing countries more effectively. At the same time, the JICA Research Institute was established for enhancing research function based on JICA's field activities.
She also mentioned her last official tour of Egypt and Tunisia. In those two countries, she confirmed the importance of "inclusiveness" in development, pointing out that the so-called IT revolution accelerated the spread of dissatisfaction among people victimized by "growth and disparity," and that this dissatisfaction appeared in the Arab Spring phenomenon. Along with JICA's vision, "Inclusive and Dynamic Development," she insisted on the importance of taking a stand for policies and programs that will benefit a wide range of people, including balancing education and employment for younger generations.
In response to a request for a comment on Japan's progressively shrinking ODA budget, Mrs. Ogata said that when Japan received assistance from almost all the world, including least developed countries, in the aftermath of the Great East Japan Earthquake, Japanese people renewed their own understanding that development cooperation is not a one way flow but a reciprocal process within the international system of mutual dependency.
Starting in April, Mrs. Ogata continues her involvement with JICA as a special advisor.
Major JICA Initiatives during President Ogata's Tenure
October 2003 to March 2012
Birth of the New JICA and Integration of Three Schemes
JICA was reborn in October 2008 with the integration of the former JBIC's Overseas Economic Cooperation Operations. Overseeing an annual operating budget of over one trillion yen with an overseas network spanning some 100 countries, JICA became a world-class agency providing comprehensive development assistance. A unified project/program formation process and a stronger program approach were introduced, making it possible for JICA to provide more effective and timely assistance by operating in a way that integrates three methods of assistance.
Stronger Research Capacity
The JICA Research Institute was established in October 2008 to strengthen JICA's capacity for development research based on information collected in the field and to proactively disseminate the results of that research to the international development community and other research institutes.
Promoting More Inclusive Development in Practices and Programs for Human Security
To establish human security, a pillar of Japanese diplomacy, in the field, JICA adopted a new policy on human security with a focused approach, incorporating a perspective of human security to proactively shape and implement cooperation in every country of the world.
The new JICA proclaimed a fresh vision of "Inclusive and Dynamic Development," promoting development projects that benefit more people. Specifically, JICA now plans and promotes projects that are formed so as to ensure that the growth outcomes extend to all people in a sustainable manner and so that they can participate in the growth process, allowing no exclusions based on nationality, religion, customs or traditions, income or assets, education or academic background.
New Focus on the Field, Effectiveness and Expedited Response
JICA has built awareness of field emphasis within the organization, and has transferred staff members to local offices along with additional authority. As a result, projects are formulated to reflect the actual needs of not only the local government but also of the local people and communities, and projects can be implemented on an expedited basis.
For the sake of efficiency and curtailing administrative expenses, JICA implemented a review that resulted in the introduction of a human resource system that reflects job descriptions and work performance, as well as a major simplification of work procedures. These initiatives enabled JICA to accomplish all of its objectives in the first Medium-term Target Period (October 2003 to March 2007). In the second Medium-term Target Period (April 2007 to March 2012), it appears that JICA will achieve nearly all its objectives again.
Stronger Assistance for Africa
JICA strengthened assistance for Africa, the region of the world most in need of cooperation, from the perspectives of alleviating poverty and consolidating peace.
In doing so, JICA nearly doubled the proportion of technical cooperation and grant aid allocated to Africa.
JICA also increased the proportion of Japanese ODA loans for Africa.
Further information: proportion of assistance provided to Africa
Technical cooperation: increase from 14.0% in FY 2003 to 20.9% in FY 2010, grants: increase from 25.6% in FY 2003 to 42.8% in FY 2010
Japanese ODA loans: increase from 1.8% in FY 2003 to 10.7% in FY 2010
Stronger Peace Building and Post-Conflict Assistance
JICA strengthened its support system and safety measures so that peace building and reconstruction assistance can be started in a country or area immediately after the end of conflict.
In doing so, JICA emphasizes the importance of a seamless transition from humanitarian assistance to reconstruction, and quick and timely support in the early post-conflict stages of the countries. (as seen in cases such as Afghanistan, Democratic Republic of the Congo, Iraq, Sierra Leone and South Sudan).
Promotion and Expansion of Development Partnerships
Citizen-participation Cooperation: In April 2006, JICA established the JICA Global Plaza in the Hiroo Center as a base for international cooperation based on citizen participation. JICA has expanded partnership program projects and is proactively supporting efforts in developing regions by NGOs, local governments, universities and other institutions.
Stronger Private Sector Partnerships: In October 2008, JICA established the Office for Private Sector Partnership, strengthening assistance in developing countries through partnerships and cooperation with Japan's private sector. Specific measures include the implementation of new preparatory surveys for BOP business promotion and PPP infrastructure projects. In FY 2010, JICA resumed the "Private Sector Investment Finance" scheme to promote economic and social development through loans and equity for private enterprises in developing regions.
Stronger Scientific Technical Cooperation: In FY 2008, JICA initiated the Science and Technology Research Partnership for Sustainable Development (SATREPS) in partnership with universities and research institutions in Japan to improve the capacity for research and an integrated response to global-scale issues faced by universities and research institutions in developing countries.
Stronger Partnerships with Other Donors and International Agencies: In addition to conventional development partners, JICA established partnerships and cooperation projects in developing regions through partnerships with emerging donors such as Brazil, China, India, South Korea and Thailand, and with private-sector groups such as the Bill & Melinda Gates Foundation and BRAC (formerly the Bangladesh Rehabilitation Assistance Committee).
Prompt Deployment of Emergency Response for Disasters Using the Experiences of Disaster Assistance in Japan
JICA promptly dispatched emergency relief, medical and other specialist teams to regions around the world following large-scale disasters, including the Sumatra earthquakes, the 2004 Indian Ocean earthquake and tsunami, the 2008 Sichuan Earthquake, the 2010 Haiti earthquake and the 2011 Thailand floods (a total of about 60 teams since 2003). JICA also provided immediate emergency relief supplies such as tents and blankets to assist with relief and reconstruction efforts in disaster-affected areas (about 170 times since 2003).
Response to the Great East Japan Earthquake
When the Great East Japan Earthquake, unprecedented in scale, struck, JICA proactively developed assistance efforts using the expertise and experience accumulated in overseas cooperation work. Specifically, JICA provided assistance to local disaster victims including providing shelter and other aid to evacuees (with a capacity of about 450 people) at JICA's Nihonmatsu Training Center. Additionally, JICA provided indirect assistance for efforts by the United Nations (UNDAC and UNOCHA), overseas medical teams and NGOs/NPOs, and JICA dispatched its staff and Japan Overseas Cooperation Volunteers (JOCVs) who had temporarily left the countries they were stationed in for security reasons to such affected areas as Higashimatsushima, Nihonmatsu, Tono and the northeastern coastal area. Through training and seminars, JICA is communicating the lessons learned in disaster prevention and reconstruction to the world.