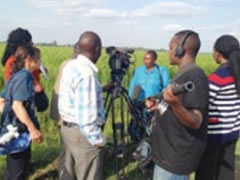 A crew from South Sudan TV and Radio at work on location
Since fiscal 2012, JICA has been assisting South Sudan TV and Radio, a state-run broadcaster in South Sudan, in becoming a public entity, independent of the government, so as to provide the public with more accurate, neutral, and impartial information.
Training in Neighboring Countries amid the Internal Conflict
During fiscal 2014, experts from JICA were unable to enter South Sudan because of the ongoing armed conflict that broke out in December 2013. Nevertheless, JICA continued with the project by providing training in Kenya, Uganda, and other neighboring countries.
Training participants discussed challenges in transforming SSTVR into a public broadcaster and the steps to be taken to address them and drafted a short-term roadmap for such transformation. In addition, the participants selected for themselves a few topics that serve the public benefit, including agriculture and inter-ethnic reconciliation, and produced short programs on these topics. This allowed them to learn the whole process of production, ranging from proposing a program and drawing a program table to conducting location shooting and editing. The programs thus produced were aired on SSTVR.
The participants learned how to propose a news project and produce a news program based on interviews with sources rather than government press releases in order to build their broadcasting capacity. In this way, this project aims to improve the quality of news broadcasting.
Case Study
Myanmar: The Project for Capacity Development of Legal, Judicial, and Relevant Sectors
Providing Support for Capacity Development in Legal and Judicial Organizations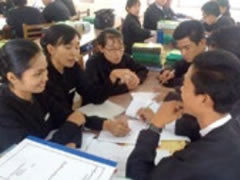 JICA long-term experts give lectures on criminal law during training for judges newly appointed by the Myanmar Supreme Court.
It is necessary for Myanmar to achieve rapid progress in the reform of its legal systems toward ASEAN integration in 2015. JICA is supporting organizational capacity development and human resources development of legal, judicial, and other relevant authorities in Myanmar so that they will be able to develop and implement laws that can respond to contemporary needs.
Development of Economic Law is an Urgent Task
Since the transition to civilian rule in March 2011, the Government of Myanmar has been pushing ahead with reforms in various sectors. Establishing the rule of law through reform of the legal and judicial sector is a vital element for promoting these reforms. Reform of legal and judicial systems to promote a market economy and attract foreign investment is a top priority for the government, especially with the approaching establishment of the ASEAN Economic Community in 2015.
In this cooperation, JICA will provide support for improving the legislative-screening capabilities in the Union Attorney General's Office and the legislative-drafting capabilities in the Supreme Court of the Union, while undertaking activities to meet the challenges of drafting and revising economic law and other laws in Myanmar. From a medium- to long-term perspective, JICA will provide support for improving the basis of human resources development for prosecutors, judges, and other officials at both organizations, and for examining the mutual consistency of targeted laws and regulations, and the legislative order of precedence.
Three Japanese experts are stationed in the Myanmar capital, Nay Pyi Taw, where they discuss issues with officials from both organizations on a daily basis.
Based on Knowledge Gained in Japan
With general elections scheduled for November 2015, a large number of laws are newly being enacted or amended, but progress is slow. In March 2015, JICA conducted training in Japan to introduce the legislative processes of Japan and other countries, and through discussions with Japanese experts, examine the most suitable for Myanmar. The training was extremely fruitful as participants were also invited from other related organizations, and this enabled participants to discuss not only the screening processes for draft laws submitted to the government, but all aspects of the legislative process.
Participants from the Union Attorney General's Office held a debriefing session soon after returning to Myanmar, and proposed the involvement of experts and the use of public comments in the drafting process in individual ministries and agencies to make the legislative process more efficient. Reform of the legislative process is gradually beginning to move ahead.
Case Study
Cambodia: Legal and Judicial Development Project (Phase 3)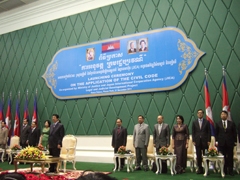 Ceremony marking the enactment of the new Civil Code
New Civil Code Enacted Four Years After Promulgation
Following the termination of all laws of the Pol Pot regime in the 1970s and expiration of the former Civil Code, Cambodia had no structure for basic laws concerning social activities. There were no laws or regulations to underpin such important systems as inheritances and contracts. JICA started providing legal and judicial development assistance in 1999, which included support for drafting a Civil Code and Code of Civil Procedure and enacting these laws and for drafting associated laws and regulations.
In drafting the laws, a Cambodian drafting team held extensive discussions with working group members and experts from Japan. Drafts for each article were prepared by referring to Cambodia's former Civil Code and current laws and customs, as well as Japan's Civil Code and civil codes of other countries such as France and Germany. Creation of new legal terminology was also necessary since some concepts and laws were new to the Khmer language.
The new Code of Civil Procedure was applied in 2007, one year after its promulgation.
On the other hand, the Civil Code, which has 1,305 articles, was promulgated in 2007. However, this code required consistency with many associated laws and regulations as well as the creation of the necessary systems and other actions. Therefore, a separate Civil Code Implementation Law was formulated to decide on the date of enactment. During this period, JICA extended support for drafting the Civil Code Implementation Law, registrations and other related laws and regulations. The Civil Code was applied on December 21, 2011, four years after its promulgation.
JICA will continue providing assistance to Cambodia to ensure that the new Civil Code and the Code of Civil Procedure are utilized in a suitable manner so that the people of Cambodia can lead stable lives, including support for rooting and familiarizing the new laws among Ministry of Justice members, legal professionals, university instructors and others.
Case Study
Cambodia: Project on Improving Official Statistics in Cambodia (Phase 3)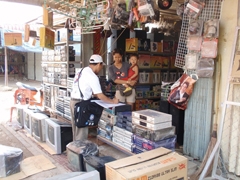 A census taker visits a business to gather information
Support for Cambodia's First National Census
While civil war and other issues prevented Cambodia from establishing a framework for collecting statistics, in March 2011, the country conducted its first economic census. JICA provided Technical Cooperation and Grant Aid to help Cambodia gather highly reliable statistics.
An economic census is a national survey to gather information about a country's businesses and establishments. In this censes, information about the location, workforce, sales, assets and other aspects of businesses in Cambodia were collected.
JICA provided both Technical Cooperation and Grant Aid for this project, dispatching experts from Japan to hold various training sessions for provincial guidance personnel and census takers, and utilizing counterpart funds to recruit approximately 4,000 census takers. As a result, Cambodia was able to produce highly reliable statistics that clearly show the current status of businesses throughout the country for the first time.
Ministries and agencies of the Cambodian government are showing high interest in this economic census. The Ministry of Commerce hopes the census will help resolve the difficulties in collecting trademark registrations data. The National Bank of Cambodia commented on the importance of the census in determining the national income and GDP.
Results of the fiscal 2011 census are expected to be utilized by the national and local governments in various policymaking and planning, as well as by universities and research institutes for academic researches, and by businesses for formulating strategies and conducting market researches.