This year marks 20 years since the end of the Kosovo Conflict, a conflict that saw fierce ethnic strife*1. While tensions between Albanians and Serbs in Kosovo continue to this day, JICA is supporting Kosovo's public broadcaster Radio Television of Kosovo (RTK) in the production and broadcasting of information programs jointly produced by a multi-ethnic team to foster interethnic collaboration. The team has taken up more sensitive topics such as politics and economics and an informational program called "UMAMI," whose name is derived from the Japanese word for savory taste, umami, is being broadcast.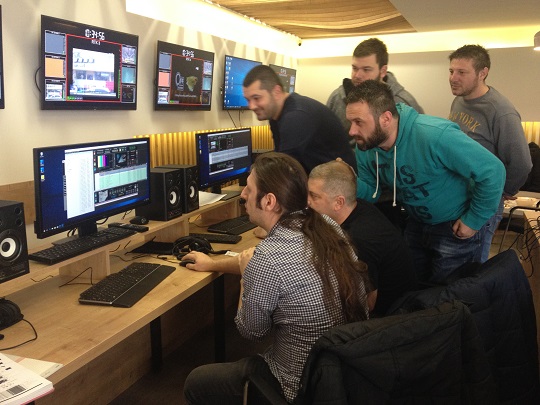 Albanians and Serbs do broadcasting work together at Radio Television of Kosovo.
Two different ethnicities join to create one program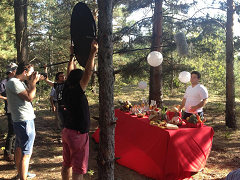 Filming the jointly produced UMAMI program
RTK, Kosovo's only public broadcaster, established a channel called RTK2 for the Serb minority in 2013. Until then, staff at the channel consisted solely of Albanians, and the launch of RTK2 brought the broadcaster its first Serb employees. However, interactions between Albanians and Serbs at the channel were non-existent, and both groups worked in separate offices to produce their respective programs.


In 2015, JICA launched the Project for Capacity Development at RTK. To assist RTK in its crucial leadership role of promoting interethnic dialogue, JICA has continued to provide robust support for the supply of accurate, neutral and fair information for news and program, and has also supplied equipment that underpins these activities.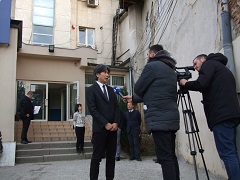 Keiichi Hashimoto, Senior Advisor, JICA, is interviewed during the final phase of the project
Dr. Keiichi Hashimoto, a Senior Advisor at JICA and a specialist in media and peacebuilding proposed that staff from both ethnicities jointly produce programs as a way to increase opportunities for interaction. "In Focus" is an information program born from this proposal. While the program began with safe topics like tourism and agriculture, as the staff grew closer together it increasingly began to take on sensitive issues like elections and politics. Counting over 30 broadcasts to date, In Focus has become a flagship show for RTK.


UMAMI went on the air in 2017. Based on the concept of interethnic collaboration, UMAMI is a probing documentary that covers a variety of topics from both perspectives. The show has been broadcast two times to date and has been well received by viewers. The jointly produced program was aired with subtitles in both Albanian and Serbian so both ethnic groups could watch it.
Averting a "crisis" to become colleagues that mutually respect each other
However, there was friction in the production process at times. At one point during a planning meeting, a staff member of Serbian ethnicity used the term "Kosovo and Metohija,"*2 a former term used when Kosovo was under Serbian control. This enraged the Albanian staff and led to an exchange of harsh words.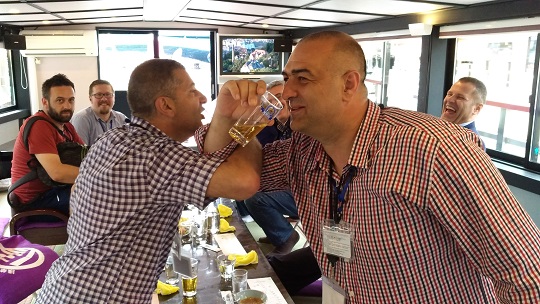 Staff open up to each other
Hashimoto noted that over several years, the state of their relationship greatly changed as they worked together. "Now when they have free time, they go off to drink coffee together as normal friends do," he said. Hashimoto added, "None of them worry about which ethnicity they belong to. As professional journalists, they have come to respect each other's work as true partners." During the conflict, Japan did not favor either side and maintained a neutral stance toward the Balkans. This is the reason why Japan is uniquely able to support initiatives related to media, an aspect that comes with political sensitivities.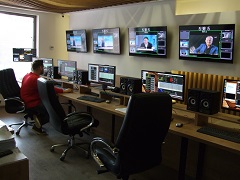 Broadcast equipment provided by JICA facilitated cooperation among staff members
Furthermore, JICA's provision of equipment enabled the integration of all channel broadcast equipment which helped facilitate joint work between the two sides. As a result, staff of both ethnicities had increased opportunities to work together as they shared news and program materials.
Japan-inspired Consultative Commission on Programmes protects broadcast independence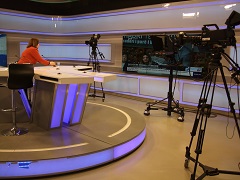 RTK studio used for broadcasts
While interethnic cooperation is taking place at RTK, fake news that slanders other ethnic groups were seen to be broadcast in Kosovo. Moreover, hardline nationalists and other various political forces have applied pressure on RTK for its promotion of interethnic collaboration and co-existence. To overcome this situation, with JICA's encouragement RTK took the initiative to establish a "Consultative Commission on Programmes" comprised of independent experts who review broadcast quality and monitor for political neutrality.
While channels in Japan have Consultative Commission on Programmes as required by Japanese law, such commissions are not common in European and American countries, and did not exist in Kosovo previously. However, RTK staff, already conscious of the issue of external interference, were quick to agree to the idea. When a committee member judges that there is an issue with some content, the member can use a specially developed app to quickly share opinions and check with other members. As such, the system is even more flexible and effective than the one used in Japan.

Hashimoto has been involved in media assistance in Nepal, South Sudan and other countries. Drawing on his experiences, he noted, "To entrench democracy and peace, it is essential to have media institutions that provide fair, neutral and accurate information. As the spread of fake news and hate speech becomes a problem worldwide, we expect there will be a need to establish trustworthy public broadcasts." JICA will continue offering media assistance in Africa, Asia and other regions.



*1: In the 1990s, a conflict erupted in the former Serbia's autonomous province of Kosovo as ethnic Albanians, which made up more than 90% of the population, called for independence. While the conflict ended in 1999, tensions between both ethnic groups continue to this day.

*2: During the era of the former Yugoslavia, Kosovo became an autonomous province within the Republic of Serbia, and was referred to as "Kosovo and Metohija". Metohija means "Serbian Orthodox monastic estates," and for Muslim majority Albanians, the word brings back memories of control by Serbs, who observe a different religion.