From Sept. 18 to Sept. 26, JICA President Shinichi Kitaoka visited the United States.
1. 6th High-Level Dialogue between the World Bank Group and JICA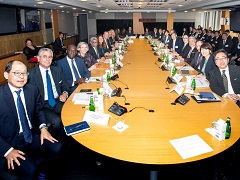 At the summary session
From Sept. 19 to 20, Dr. Kitaoka participated in the 6th JICA-World Bank Group High-Level Dialogue.

Held annually since 2014, the High-Level Dialogue provides an opportunity for exchange of opinions between the heads of JICA and the World Bank Group. This year the dialogue was held at the World Bank headquarters in Washington, D.C., where participants discussed topics of central relevance to international development, such as human capital and greatly infrastructure investment, with the talks extending to enhancing collaboration by the two organizations, including the mobilization of private funds.

The discussions were attended 35 representatives from JICA led by Dr. Kitaoka and other board members; and by 70 officers for the World Bank Group including President David R. Malpass and high level officers of the International Finance Corporation (IFC) and the Multilateral Investment Guarantee Agency (MIGA).

Taking account of the "G-20 Principles for Quality Infrastructure Investment ," adopted at the G-20 summit in Osaka, a session on "quality infrastructure investment" was included in the agenda. Attendees mutually agreed on the importance of considering life cycle costs for improved economic efficacy, integrating environmental and social considerations into infrastructure investment, strengthening infrastructure governance, and the need to cooperate in promoting quality infrastructure investment on an international basis. During the session on human capital, they discussed taking a multi-sectoral approach encompassing the areas of health, nutrition and education, and implementing common initiatives with community participation in order to accelerate investment in human capital. In particular, the parties agreed on the need for giving higher priority to early years investment, such as early childhood, and to empowerment of girls and women.

During the regional sessions, discussed on initiatives of challenges and characteristics of individual counteries and regions. , and agreements were reached on concrete cooperation policies. Following up on the TICAD7 meeting held in Yokohama in August 2019, special attention was devoted to discussing programs for private sector development and strengthening of digital, innovation, human capital, and sports and development in Africa.
2. Meetings with heads of international organizations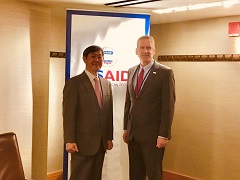 From right, Mr. Green and Dr. Kitaoka
On Sept. 20, Dr. Kitaoka exchanged opinions with U.S. experts regarding the role of international cooperation in the context of the "Free and Open Indo-Pacific" vision at the Brookings Institution.

Then on Sept. 23, Dr. Kitaoka met for the first time with U.S.Agency for International Development (USAID) Administrator Mark Green to discuss the possibility of collaboration with that agency in the Indo-Pacific region as a Japan-US bilateral aid organization.
3. Meeting of the SUN Movement Lead Group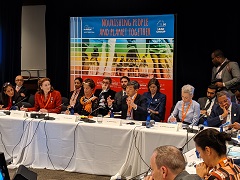 Meeting of the SUN Movement Lead Group
On Sept. 24, Dr. Kitaoka attended a lead group meeting of the SUN (Scaling Up Nutrition) Movement that was held at UNICEF headquarters in New York.

The SUN Movement, which was launched under the guidance of the United Nations in 2010, is a broad coalition made up of international organizations, private businesses, and civil society that works together to improve nutrition in developing countries. The movement's Lead Group, which Dr. Kitaoka joined in May 2019, is made of the heads of international organizations, cabinet ministers of various countries, and representatives of private organizations who lead the global nutrition improvement initiative.

At this meeting, members resolved to continue activities of the SUN Movement until 2025 and reaffirmed their statement to work toward improved nutrition. Pointing out that nutrition is key to human security, Dr. Kitaoka stated that, building on experience with eliminating undernourishment in Japan, JICA plans to contribute to improved nutrition in partner countries through programs such as the IFNA (Initiative for Food and Nutrition Security in Africa ).