From November 1 to 11, JICA President Shinichi Kitaoka visited the Federative Republic of Brazil and the Republic of Paraguay. During this visit, he delivered keynote speeches on the theme of "The Modernization of Japan," and attended ceremonies to mark the anniversaries of Japan's official development assistance (ODA) to Brazil and of its diplomatic relations with Paraguay. He also met with various government officials and visited residents of Japanese descendants.
1. Brazil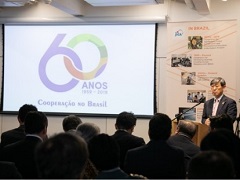 At Japan ODA 60th Anniversary Celebration, Brazil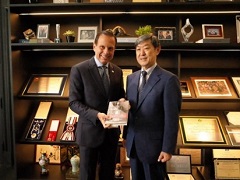 Meeting with governor of São Paulo state, Brazil
Dr. Kitaoka delivered opening remarks at the ceremony to mark the 60th anniversary of Japan's overseas development assistance to the country. He remarked that the 60-year history of ODA that Japan and Brazil traveled together has stimulated economic development in both countries and had an impact on the global economy. The ceremony's venue was packed with over 100 participants, including Ambassador Rui Carlos Pereira, director of the Brazilian Cooperation Agency (ABC). The ABC and São Paulo City Council presented a certificate of appreciation to JICA. At the ceremony's closing, Dr. Kitaoka presented this year's JICA President Award to Ms. Yukari Hamada, the National Institute of Amazonian Research, and the University of Campinas.
Also, Dr. Kitaoka delivered a special lecture to commemorate the establishment of the "Fujita-Ninomiya Chair (Japan Development Research Program)" at São Paulo University (Note 1). The program was established in recognition of the achievements of the late Ambassador Edmundo Susumu Fujita, the first Japanese Brazilian to be accepted into the Brazilian Diplomatic Service, and Dr. Masato Ninomiya, professor of law at São Paulo University who worked for many years to strengthen relations between Brazil and Japan. Expressing his appreciation to those who exerted effort on behalf of the Chair's establishment, Dr. Kitaoka said, "This Chair is intended to commemorate the achievements of these two individuals who have held the bond between Brazil and Japan in such high regard and to foster the next generations to carry on that sentiment. We are grateful to São Paulo University for accepting our proposal for its establishment at their own alma mater."

Then Dr. Kitaoka had a meeting with Mr. João Doria, governor of the state of São Paulo. Governor Doria expressed his appreciation for JICA's many years of cooperation with the state, and emphasized the importance of deepening cooperation between the two countries in areas such as disaster prevention, water supply and sewage, and continuing the exchange of human resources.

Furthermore, Dr. Kitaoka exchanged opinions with the representatives of the Japanese-Brazilian society. He also visited a museum dedicated to immigration and discussed future cooperation.
2. Paraguay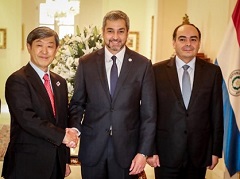 Meeting with president of the Republic of Paraguay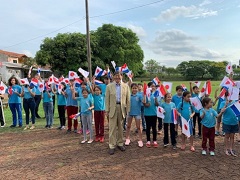 Welcoming by children of the Ciudad del Este Japanese Association, Paraguay
Dr. Kitaoka had a discussion with President Mario Abdo Benítez at the Presidential Palace in Asunción, the capital of Paraguay. President Abdo Benítez expressed gratitude for JICA's many years of cooperation, along with his hopes for continued engagement of JICA in development of the two countries, especially in promoting trade and investment. Dr. Kitaoka offered felicitations on the centennial of establishment of diplomatic relations between the two countries, and shared his continued commitment for development of both countries looking ahead to the coming century.

Following his meeting with Paraguay's head of state, Dr. Kitaoka had a talk with Foreign Minister Antonio Rivas Palacios. Foreign Minister Palacios voiced his appreciation for past cooperation and his anticipation of support looking ahead to Industry 4.0 (Note 2). He also proposed a partnership with JICA to bring Paraguay's experience to the world through the frameworks of South-South and triangular cooperation. Dr. Kitaoka expressed his recognition on the importance of strengthening of relationship between the two countries through the collaboration in the triangular cooperation framework and the promotion of sports exchanges. At the end of the meeting, Dr. Kitaoka received Paraguay's National Order of Merit (Grand Cross), presented by the national government in recognition of JICA's long-standing contributions to Paraguay's development.

At a JICA-sponsored ceremony to commemorate 100 years of diplomatic relations held at the Paraguayan-Japanese Center for Human Resource Development in Asunción, Dr. Kitaoka delivered the keynote speech on the topic of "Modernization of Japan, and Paraguay-Japan relationship." During the speech, he said, "Japan was the first non-Western country to undergo modernization, and the process was of great value. I am sure that it holds hints that can be of use in Paraguay's development." Also he expressed appreciation for the support represented by the "Million packets of Tofu Support Project" (Note 3) in the wake of the Great East Japan Earthquake.

Stopping in Ciudad del Este and Colonia Yguazú, Dr. Kitaoka visited a Japanese association, a Japanese-language school, a clinic and an agricultural cooperative, and received warm welcomes from members of Japanese-Paraguayan society. During these visits, he noted the new challenges facing the society of Japanese descendants arising out of rapid social changes and transition between generations.
(Note 2) Industry 4.0: The pursuit of cost and labor reductions by increasing the degree to which production processes are digitalized, automated and virtualized.

(Note 3) Million Packets of Tofu Support Project: The delivery of 1,288,000 packets of tofu to areas stricken by the Great East Japan Earthquake, enabled by the donation of soy beans and funds made available by Japanese-Paraguayan associations and agricultural cooperatives.