Name of Meeting: Welcome Program for the Participants of ABE Initiative (the 6th Batch)
Date: December 20th and 21st, 2019
Sponsors: JICA
Location: JICA Tokyo International Center
Overview
"ABE Initiative 3.0" was launched at TICAD7 held in August 2019.
The 6th batch students, who are the first students of the ABE Initiative 3.0 arrived in Japan in August to October this year, and the "Welcome Program" was held at JICA Tokyo on December 20-21, 2019.

62 out of 67 students who now study at different universities in Japan gathered all in one place for the first time. In this Welcome Program, they learned about the ABE Initiative program during their two-year stay in Japan, exchanged opinions with ex-ABE participants, and networked with other participants, JICA Senior Vice President Dr. Kayashima, and JICA staffs.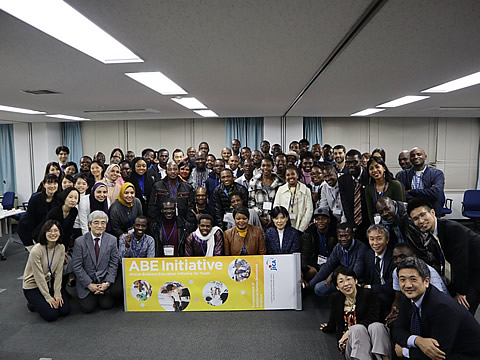 Welcome Dinner
Primary objectives and outcomes
The program was held in a aim of achieving following two objectives for the new ABE Initiative participants.

- Deepen understanding of the aim of the ABE Initiative program and what is
expected as a ABE participant.

- Develop ideas about what actions and initiatives to take during the stay in Japan with clear goals in mind.
Content of the discussions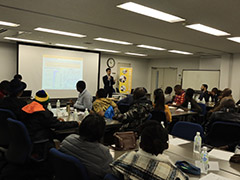 Instruction from JICA Staff
- Introduction of JICA's overview and activities, TICAD7, ABE Initiative, Internship Program during in Japan, trends of Japanese companies expanding thier businesses in Africa,
- Introduction of the good practices by ex-ABE participants,
- Group Work "ROAD MAP to GOAL",
- KAKEHASHI AFRICA Session (ABE Alumni association (International NGO)), etc.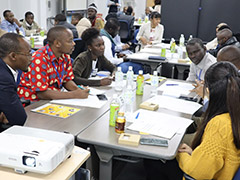 Group Work "ROAD MAP to GOAL"