(Left) The Disaster Medical Assistance Team (DMAT) in response to an emergency medical incident in Japan
(Right) Japan Disaster Relief Team (JDR) active in providing disaster medical support overseas

Twenty-five years have passed since the Great Hanshin-Awaji Earthquake, an unprecedented urban near-field earthquake. In recent years, with the frequent occurrence of typhoons and other natural disasters, the name of Japan's Disaster Medical Assistance Team (DMAT) has become widely known. However, it is not well known that the DMAT came about as a result of the Great Hanshin-Awaji Earthquake.

When the DMAT was created, it was based on the know-how of the Japan Disaster Relief Team (JDR), which had its secretariat in JICA and was already active overseas at that time. Currently, the DMAT and JDR are home to many medical professionals, and Japan's disaster medical assistance know-how is being utilized overseas, while experiences gained overseas are also being employed in Japan.

In the twenty-five years since the Great Hanshin-Awaji Earthquake, we ask Dr. Koido Yuichi(National Disaster Medical Center, Tachikawa City, Tokyo) and Dr. Tomioka Joji (Yonemori Hospital, Kagoshima City), both of whom have long and deep relationships with the two organizations of the DMAT and the JDR, about the path that Japan's disaster medical support has taken.

The DMAT rushing to a disaster site to provide emergency treatment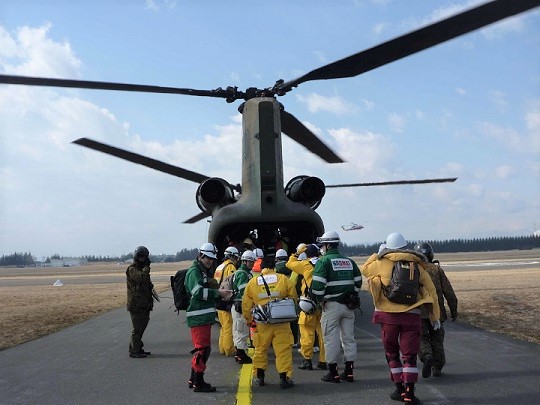 The DMAT descended from a Self-Defense Force aircraft to rush to Miyagi Prefecture at the time of the Great East Japan Earthquake
The DMAT are national emergency medical teams dispatched to a large-scale disaster or accident sites to provide emergency treatment. In recent years, the team has been widely covered by the media and has become increasingly visible. The four to five-person team consists of doctors, nurses, and coordinators. There are 1,686 teams and 14,204 registered personnel nationwide (as of the end of March 2019).

"DMAT teams were mobilized in various incidents including the Northern Osaka Prefecture Earthquake, heavy rain in western Japan, and the Hokkaido Eastern Iburi Earthquake in 2018, and the torrential rain disaster in the northern part of Kyushu and the Typhoons 15 and 19 in 2019. Approximately 100 teams were dispatched for Typhoon 15, and approximately 260 teams were dispatched for Typhoon 19. Their job was to support hospitals with water interruptions and power outages, as well as to evacuate hospitalized patients," said Dr. Koido Yuichi, who is currently Director of the DMAT Secretariat.

"How did the Great Hanshin-Awaji Earthquake trigger the establishment of DMAT? This is because since Isewan Typhoon in 1959, Japan had not experienced a major disaster until the Great Hanshin-Awaji Earthquake in which more than 1000 lives were lost, and there had been little talk about the need for disaster emergency assistance in Japan until that time," said Dr. Koido, looking back 25 years ago.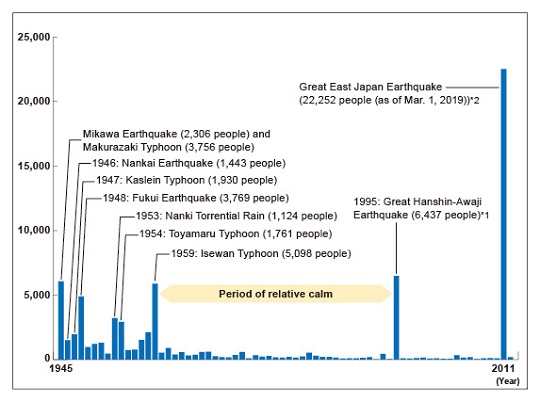 The number of fatalities and missing persons due to natural disasters in Japan
*1 The number of fatalities in the 1995 Great Hanshin-Awaji Earthquake includes the so-called 919 related deaths (from Hyogo Prefectural Data).
*2 As of March 1, 2019. Fatalities and missing persons in 2018 are preliminary figures compiled by the Cabinet Office.
Sources: Figures for 1945 are from Rika Nenpyo, indicating the number of fatalities and missing persons due to major disasters. Figures for 1946‒1952 are from Nippon Kisho Saigai Nenpo. Figures for 1953‒1962 are from National Police Agency. Figures for 1963 onward are from the Fire and Disaster Management Agency. Data compiled by the Cabinet Office.

Since Isewan Typhoon (1959), the period has remained calm without being hit by a major disaster. However, following the 1993 Southwest Off-Hokkaido Earthquake and the 1995 Great Hanshin-Awaji Earthquake, the need for disaster medical care became an issue.
An unprecedented earthquake occurs; Request for JDR cooperation
The Great Hanshin-Awaji Earthquake, whose epicenter was located in the northern part of Awaji Island, struck the region at 5:46 a.m. on Jan. 17, 1995, with a magnitude of 7.3. The earthquake caused expressways and buildings to collapse in the disaster-stricken areas centered around Kobe City, and large-scale fires in Nagata-ku, Kobe City, ruthlessly devastated the people.

In addition to the disruption of everyday infrastructure such as telecommunication, electricity, and water supply, there was tremendous damage to roads, hospitals and clinics, and many doctors, nurses, emergency personnel, and firefighters alike were impacted by the disaster.

"At that time, there was an international emergency medical team (JMTDR: Japan Medical Team for Disaster Relief, the current JDR Medical Team) in Japan, which was a remnant of the team providing medical assistance to Cambodian refugees in 1979. At that time the JMTDR was only able to operate as an overseas medical team and was legally unable to operate in Japan. However, with the occurrence of an unprecedented earthquake, many of the people who got involved in medical activities in Kobe immediately after the disaster actually included a large number of registered JMTDR personnel. Although there was very little information about the situation, many doctors and nurses went to Kobe on their own initiative from Tokyo, Kansai, and the Kinki regions too," explained Dr. Koido, the former Chairman of the JDR Medical Team Support Committee. In 1994, he participated in the JDR team as a specialist in the treatment of burns when Mount Merapi erupted in Indonesia.
Due to the seriousness of the situation, two weeks after the disaster, the then Prime Minister Murayama Tomiichi requested JMTDR for cooperation through JICA, which had never been possible until then. In response, the JMTDR implemented support activities as part of their training. A total of 31 registered doctors, nurses, and others took three shifts, and for the period from Feb. 4 to 20, conducted medical treatment activities based at Mikage Elementary School in Higashinada-ku, Kobe City.

It was later proven however, that there would have been many "preventable disaster deaths" after the unprecedented earthquake directly under the big city. Preventable disaster deaths are deaths resulting from the person's inability to receive the appropriate acute treatment that would have typically been provided under normal circumstances. This number is estimated to be at least 500.

It became clear from this situation that there is a need for dispatching disaster medical teams who can operate domestically.


The DMAT was established based on JDR
"Since that day, everything changed. The establishment of a national and local crisis management system and domestic disaster medical systems in the event of a large-scale disaster became an urgent issue. In other words, it can be said that this event marked a major turning point in Japan's disaster medicine," says Dr. Koido.

The Ministry of Health, Labour and Welfare immediately established an expert council. In addition, in the same year, the Japanese Association for Disaster Medicine was established as the domestic society for disaster medical care. "Against this backdrop, with the efforts of Dr. Henmi Hiroshi of the National Hospital Organization Disaster Medical Center, Japan's first disaster dispatch medical team, Tokyo DMAT, was established in 2004, and Japan DMAT was established in all prefectures throughout Japan in 2005."

Many of the key persons who played a central role in the establishment of DMAT had already been involved with JDR for many years, including doctors and specialists. JDR training programs have also been used to develop initial stage DMAT human resources.

"In other words, it is no exaggeration to say that the DMAT (for domestic use), which was born from the lessons learned from the Great Hanshin-Awaji Earthquake, was built on the basis of the JDR," Dr. Koido passionately explains. The DMAT and the JDR then began to share their knowledge and work to strengthen their disaster emergency assistance systems.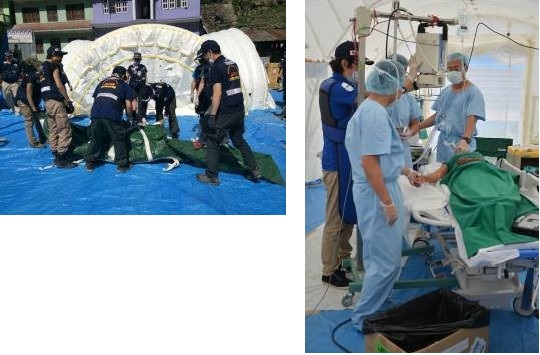 (Left) JDR Medical Team Members set up a cross tent for medical treatment in the earthquake-affected area of Nepal in 2015
(Right) Surgery in a cross-tent. JDR Medical Team has been certified as a team with multiple competencies by the WHO (World Health Organization) that can provide Type 1 "Outpatient Emergency Care," which includes primary care and routine visits, Type 2 "Inpatient Surgical Emergency Care," and Specialist Cell "Hemodialysis and Surgery."