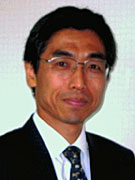 Masahiko Tanaka
Chief Representative of the JICA Myanmar Office
By Masahiko Tanaka
Chief Representative, JICA Myanmar Office
Reform is accelerating in Myanmar. The three key phrases of reforms are "democratization and national reconciliation," "economic liberalization and international openness," and "diplomatic multipolarization," and since this year began, Myanmar has unrolled a succession of great changes, including the massive releases of political prisoners (such as the leader of the 1988 student uprising and former Prime Minister Khin Nyunt), conclusion of a cease-fire agreement (the first cease-fire in 63 years) with the Karen National Union (KNU), the largest armed minority force, and an announcement to participate in a special election for the National League for Democracy (NLD) led by Aung San Suu Kyi.
The international community is also scrambling to keep up with the changes. After US Secretary of State Hillary Clinton visited Myanmar on a whirlwind tour in December 2011, the first US secretary of state to do so in a half-century, cabinet members from Denmark, France, the UK and other countries visited, and even a powerful hard-line anti-Myanmar Republican from the US Senate has paid a visit. All of these visitors have essentially extended a message of good will, and Australia and the EU are already moving toward lifting economic sanctions against Myanmar. From Japan as well, Koichiro Genba, Minister of Foreign Affairs, visited the country in December 2011, followed by Yukio Edano, Minister of Economy, Trade and Industry, in January 2012, and talks have begun toward expanding economic cooperation.
Will the Myanmar thaw be short-lived?
The question remains, however, whether this dramatic—almost explosive—change will last. A reaction by the military may bring these developments to a standstill as happened in 2003, crushing the dream of democratic reform and openness. The current democratization is moving according to the plan scripted by military administration leaders (controlled democratization), and conjecture is rife that President Thein Sein may meet the same fate as former Prime Minister Khin Nyunt for exceeding the military's set framework.
In my opinion, progress in Myanmar at present is not like the dramatic change seen in the Arab Spring, but more like a measured thawing of snow with little resistance. The first reason is that the democratization process—including the establishment of a constitution, elections and meetings of a legislature—has been implemented by the military administration over a prolonged period of time, and they would not want to destroy what they have created. The second reason is that Ms. Suu Kyi has begun taking a pragmatic course, sharing an immediate objective with the military of the 2015 general elections. The third reason is the remarkable developments occurring in nearby countries such as Cambodia and Vietnam; a consensus has been reached within the Myanmar administration that economic development is the fastest route to political stability.
There is one thing I am concerned about, however. That is burnout syndrome in Myanmar's government workers. The scope of the reforms is extensive, and expectations are set for an extremely rapid pace of reform, but there is no doubt that the number and ability of government planners and those executing policy are inadequate. Human resource training and government capacity building are urgent tasks, but it remains to be seen whether the administration can control the speed of reform at an appropriate pace.
Did Myanmar's tragedy lie with Suu Kyi?
With an abundance of natural resources (such as ample fertile land and natural gas) and human resources (60 million people, fourth in the ASEAN), Myanmar's potential for growth is high. The current reality, however, is harsh in contrast. The per capita GDP was 702 dollars in 2010 (according to the IMF), the lowest in the ASEAN area, and the industrialization rate is half that of Vietnam. Daily life for residents remains unchanged from that of 20 years ago, and no clear improvement has been felt in living standards since the inauguration of the new administration. It could be said that every other nation in Asia (including Bangladesh and other South Asian countries) is posting remarkable growth, leaving Myanmar behind.
The reason for this persistent lag may lie with the immaturity of the military government's administration, or perhaps due to the effects of the economic sanctions by Europe, the US and other countries. Another major factor may be the frequent natural disasters in the country. (140,000 people died and 2.4 million suffered in 2008 due to Cyclone Nargis.) While some may believe that the greatest tragedy of Myanmar is the unique presence of Ms. Suu Kyi, the causes are not so simple. Without a doubt, the causes lie in the background that includes the complex intertwining of elements including Myanmar's history and geopolitical climate.
The environment in Myanmar has certainly changed. While Asian countries are the center of the world's growth, Myanmar is the center of attention as the "last paradise." From the perspective of ASEAN connectivity, Myanmar is situated as the western gateway to the East-West Economic Corridor traversing the Southeast Asian peninsula, and expectations are high for a "road to growth" connecting Vietnam to India, the Middle East and Europe.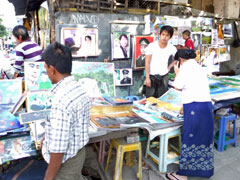 Posters of Ms. Suu Kyi, something not seen in the past, and residents using cell phones have become a common sight in Yangon
Over the past year, Japanese companies have been jostling to visit Myanmar with high expectations for its inexpensive labor force (one-third of Ho Chi Minh City and one-tenth of Bangkok) and high level of education (90% literacy), though almost none have actually begun operations in Myanmar. Although the dual exchange system and investment procedures are complicated, the primary hindrance to doing business in Myanmar is the lack of basic infrastructures for electricity and water. Urgent issues at hand include: 1) training human resources for soundly transitioning to reform, 2) building basic infrastructures to support socioeconomic development, and 3) eliminating barriers to and accelerating investment from foreign countries. In these ways, Japan's approach (infrastructure support and human resource training) has been effective in helping many countries in Asia, and Japan's experience in supporting the transition to a market economy in countries such as Vietnam should be of great help.
The unique presence of Japan (JICA)
Japan (through JICA) has a very unique presence in Myanmar. With a few small exceptions, Japan (JICA) is currently the sole donor providing direct aid to the government of Myanmar. The World Bank and Asian Development Bank do not have local offices, and the majority of international agencies provide assistance through non-governmental organizations. In terms of humanitarian cooperation as well, Japan has the most international students and trainees through government-sponsored programs, and many of the cabinet members and department directors of the new administration have been exchange students in Japan.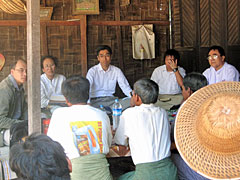 (Center back) Discussion on living conditions with farmers in an arid farming district in central Myanmar
The direction for Japanese cooperation going forward
The phrase "Japan resumes assistance" appears in the news media, but Japanese assistance to Myanmar has never stopped. Since the Baluchaung Hydropower Plant construction in the early 1960s, Japan has provided cooperation straight through to the present, and the country has been a unique presence in Myanmar in contrast to American and European countries, which all stopped their aid in 1988.
Since the detention of Ms. Suu Kyi in 2003 in particular, JICA has a history of providing technical cooperation with a focus on health, education, agriculture, disaster prevention and regional water supply in accordance with the policy of the Japanese government (new economic cooperation has basically been postponed, but cooperation in humanitarian fields and human resource training for democratization and economic structural reforms, as well as ASEAN and other regional cooperation, have been conducted in a prudent manner ). However, it also must be remembered that many Japanese specialists have been engaged in technical guidance in Myanmar recently and Japan welcomes more than 300 trainees from Myanmar each year.
The international climate in connection with Myanmar is undergoing dramatic change, and the policies of the Japanese government for Myanmar are also undergoing changes at an accelerated pace. JICA hopes to continue to make steady progress with cooperation projects as in the past, and employ financial cooperation for efforts toward building infrastructure and aid to minorities. For infrastructure assistance in particular, I hope that an emphasis will be placed on urban development (including industrial complexes near Yangon), power and transportation as key economic infrastructures for Myanmar. With respect to assistance for ethnic minority groups, I hope a focus will be placed on Kayin State, where the cease-fire accord with the Myanmar government was signed, that the comprehensive agricultural development that JICA conducted in Kokang Special Region, Northern Shan State will be kept in mind when building infrastructure for the living environment of refugees and residents, and that assistance for national reconciliation will be provided from the perspective of development aid.
Myanmar will be undergoing rapid changes. The collective wisdom of JICA must be brought together to build a Myanmar free of disparities and environmental destruction, and without leaving anyone behind.
About the Author
Masahiko Tanaka
Chief representative of the JICA Myanmar Office. Joined the Japan International Cooperation Agency (JICA) in 1988. Served at the Embassy of Japan in Bolivia, worked in the Secretariat of Japan Overseas Cooperation Volunteers, General Affairs Department, Office of the President and other posts before taking his current post in September 2011. He is from Fukui Prefecture, Japan.