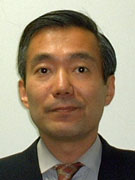 Naohiro Kitano
Former Director General, East and Central Asia and the Caucasus Department
By Naohiro Kitano
Former Director General, East and Central Asia and the Caucasus Department
South Korea and China are boosting development aid
Countries that have received development aid in the past are now becoming prominent as providers of assistance as they enjoy economic growth. Among these, South Korea and China in particular have seen remarkable growth, and the time has now come for Japan to cooperate and compete with them.
In the 1990s, Japan was the top donor country in the world for official development assistance (ODA). Due to worsening fiscal conditions and other factors, however, Japan has fallen to fifth place. In 2010, South Korea became the second Asian country after Japan to join the Development Assistance Committee (DAC) of the Organisation for Economic Co-operation and Development (OECD), and has developed a policy for strategically increasing its amount of assistance. The amount of aid South Korea provided in 2010 grew 25.7 percent from 2009, the second greatest increase of DAC member nations. China has also rapidly increased the amount of assistance it provides in recent years. Criticized by the international community for the low level of transparency in aid, China published its first white paper on foreign aid in April 2011, and has taken further steps to boost its foreign aid while heeding international opinion.
Deepening relations among the three nations
Japan's relationships with South Korea and with China continue to deepen as those nations have grown in power. To take their cooperation to a higher level in a range of fields, the governments of Japan, China and South Korea established the Trilateral Cooperation Secretariat in Seoul in September 2011. Also, the Asian Development Forum was begun in 2010 in which aid agencies from Asia, including China, India, Japan, South Korea and Thailand, participate.
Since former JICA President Sadako Ogata met with Li Keqiang, Executive Vice-Premier of China, in December 2009 in Beijing, and with Park Dae Won, President of the Korea International Cooperation Agency (KOICA), and Dong Soo Kim, President of the Export-Import Bank of Korea, in September 2010 in Seoul, Japanese relationships with Chinese and Korean personnel involved with development assistance have been deepened through workshops, training and other activities.
In March 2010, the third collaborative workshop was held in Beijing with the Export-Import Bank of China, which handles concessional loans, and in October 2010, the first training seminars for those in the Ministry of Commerce of China (MOFCOM) involved in foreign aid were held in Tokyo and Obihiro, Hokkaido. Then, that same month, a workshop was held by aid agencies in four countries—Japan, China, South Korea and Thailand—followed by the first annual consultation meeting with KOICA in December.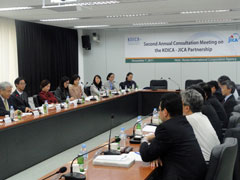 The second annual consultation meeting between JICA and KOICA held in November 2011. There was an exchange of opinions intended to strengthen the partnership.
In August 2011, JICA was invited along with South Korea to a conference on improving the capacity of developing countries that was co-sponsored for the first time by MOFCOM and the World Bank. In October of the same year, a three-party meeting was held by AFD (Agence Française de Développement), France's aid agency, the Economic Development Cooperation Fund (EDCF) under the Export-Import Bank of Korea, and in the following month, the second regular consultation was held in Seoul with KOICA. Through such exchanges, relationships of mutual trust are developing among the agencies, and the groundwork for cooperation and competition by the three countries has been laid in the area of development assistance.
Cooperation and competition among the three countries
In this section, we look at the current state of trilateral cooperation and competition. First, there are training projects. JICA accepts participants from developing countries on a scale of about 10,000 per year, mainly based in 13 locations throughout Japan. The total number of participants since 1954 exceeds 370,000. In the field of disaster prevention, where Japan has comparative advantage, JICA has held more than 20 training and site inspection programs over the past half-year with the cooperation of three prefectures in the Tohoku disaster area, Iwate, Miyagi and Fukushima, to share the experiences of the Great East Japan Earthquake and tsunami.
In South Korea, KOICA welcomed about 4,000 participants to a training center in Seoul in 2010. Since KOICA was established in 1991, it has received a total of about 40,000 participants. KOICA is putting together training programs with an emphasis on seven fields, including rural development, and information and communication technologies, both fields in which South Korea has a comparative advantage.
In Beijing, China has a training center under MOFCOM, which supervises foreign aid, and has seven training centers in different regions to expand training programs. In China, a technical training center has been established in Hunan Province, dedicated to spreading a hybrid rice developed by an agricultural scientist in that province. About 10,000 participants joined the training in 2010, and the program is planned to expand to an average of 16,000 participants a year for five years starting from 2011.
In the area of policy advice as well, the three countries are at a stage of mutual stimulation. Beginning in 2009, JICA has held high-level industrial policy talks in Ethiopia, and has been supporting a combination of practical measures (spreading "kaizen") to improve quality of products and productivity of companies at the production level. In the industrial policy talks, JICA has deepened discussions with prime ministers and cabinet members on such topics as development strategies for industry, stimulating small- and micro-enterprise, and the movement to improve national productivity, taking into account development experiences in East Asia, and it has gotten feedback on companies' practical experiences on the production level.
In February 2010, with the aim of deepening dialogue with China, I attended a conference held in Ethiopia as a member of the China-DAC study group launched by the DAC with the International Poverty Reduction Center in China. At the request of two distinguished researchers on African studies attending from China, I brought them to a factory that had undergone "kaizen" improvements. On another day, one of the researchers interviewed by the Chinese media introduced a "kaizen" project carried out by Japan in Africa with meticulous assistance that China considered valuable as reference.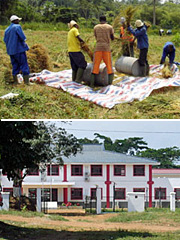 The site of an agricultural cooperation project carried out by JICA in Cameroon. Top: Farmers thresh rice for distributing seeds. Bottom: An agricultural technology demonstration center established by China in Cameroon
The Korea Development Institute (KDI), a prominent think tank in South Korea, has developed educational materials out of the successful experience of turning South Korea from one of the most impoverished countries in the world after the Korean War to one of the world's leading nations in a short period of time. It is using the educational materials to provide policy advice to developing countries under the brand name the Knowledge Share Program (KSP). In November 2011, when JICA held a collaborative seminar with KDI, the JICA participants were greatly inspired by KDI's systematic approach.
In the field, there are now examples of cooperation projects that Japan, China and South Korea have carried out in the same sector and in the same country. In Cameroon, Japan began encouraging rain-fed lowland rice farming that utilizes the characteristics of the topography in the area. Shortly thereafter, China and Korea began irrigated lowland rice farming. For such purposes, China established an agricultural technology demonstration center. Although there is a great need for technological development in the field and guidance for farmers, the number of countries that can provide such assistance is limited. Going forward, opportunities will be there for Japan, China and South Korea to assist different regions and issues under a shared goal. Whether it is providing training at home or assistance in the field, if the three countries exchange information and share their experiences while challenging each other, the effectiveness of the development efforts of each will surely be enhanced.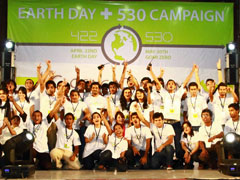 In Bangladesh, JICA and KOICA volunteers cooperated to successfully put on an environmental event in June 2011.
JICA has already successfully co-financed infrastructures with South Korea's EDCF in Mozambique and Tanzania, and is partnering with KOICA on volunteer activities such as regular consultation on the field level in Nepal and an environmental event in Bangladesh. With China, JICA has begun an exchange of opinions on specific project implementation at such places as the recently independent South Sudan and Kyrgyzstan in Central Asia.
Japan's role
The need for development aid is increasing globally such as for measures against natural disasters in every region of the world—for example, flooding in Thailand—and for sustainable development in Africa. Japan has technology, knowledge and experience in disaster prevention and in dealing with such issues as energy conservation, the environment and a rapidly aging society that come from being a developing country. Using those intellectual assets, Japan should lead Asia in improving aid both in quantity and quality through cooperation with South Korea and China.
About the Author
Naohiro Kitano
Deputy Director of JICA Research Institute. Joined the then Overseas Economic Cooperation Fund (OECF) in 1983. After work in Beijing, he received a doctorate from Cornell University in the US. He then taught as an associate professor at Kyoto University and headed the Development Assistance Department II at the Japan Bank for International Cooperation (JBIC). Before taking his current post in July 2012, he had served as Director General of the East and Central Asia and the Caucasus Department since October 2008.