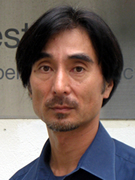 Hirohiko Takata
Chief Representative of the JICA Timor Leste Office
By Hirohiko Takata
Chief Representative, JICA Timor Leste Office
On May 20, 2012, Timor Leste celebrated 10 years of independence. While this country is often associated with images of the mayhem that preceded its independence, it has seen great improvements in civil order in recent years. Peace has been established, and citizens have returned to their daily lives.
While improvements to administrative systems continue to be made, an era of recovery from civil unrest and dilapidated infrastructure is coming to a close. This nation is now experiencing double-digit economic growth resulting from assertive fiscal spending, backed by royalty revenues from oil and gas fields located in the Timor Sea.
Timor Leste is clearly in the process of shifting gears as it enters a new era, transitioning from recovery to development. March 2012 marked the start of its first loan-funded project, the National Route 1 Improvement Project, which is backed by a loan from Japan. In this article, I will present opinions regarding the path that Timor Leste has taken since independence, as well as my thoughts on current and future cooperation with this country.
The Road from Independence to the Present Day
Let's examine the path that Timor Leste has taken over the past decade or so. Since deciding upon independence, the country has experienced two episodes of major civil unrest. The first occurred in 1999 after a referendum was held to determine whether the residents of Timor Leste wanted independence from Indonesia. This unforgettable eruption is said to have resulted in 1,000 people being killed and up to 300,000 more becoming displaced due to violence and the destruction of buildings caused by the pro-integration Indonesian militia. The mayhem came to an end when the pro-integrationists left to return to Indonesia.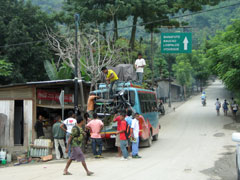 Loans from Japan have been used to rehabilitate the national highway, Rt. 1. Landslides at mountain passes still result in periodic road closures.
The second disturbance occurred in 2006 when the United Nations peacekeeping efforts were temporarily discontinued. The crisis began as a conflict between elements of the military of Timor Leste. Soldiers from the western part of the country claimed that they were being discriminated against, in favor of soldiers from the eastern part of the country. This pitted two factions within the army and police against each other and led to a sudden collapse in national peacekeeping efforts. A number of citizens took advantage of the confusion to launch violence, ending in the deaths of 35 people in capital city of Dili and the homelessness of 150,000 people.
In light of these events, the UN dispatched the United Nations Integrated Mission in Timor-Leste (UNMIT) in 2006 to maintain peace and restore administrative functions. In March 2011, police authority was transferred from the United Nations Police (UNPOL) to the National Police of Timor Leste (PNTL). Civil order has since been greatly restored as the UN prepares for the next step of withdrawing UNMIT altogether in December of this year.
While shortly after independence Timor Leste relied almost solely on foreign aid, the government's financial situation has improved dramatically since it started receiving revenues from oil and gas beginning around 2007. This new revenue stream has resulted in the government accelerating its development efforts. In 2011, Timor Leste established development goals spanning up to the year 2030 in its "Strategic Development Plan (SDP) for 2011 to 2030." The SDP allocates a large amount of the budget to infrastructure improvements and the development of human resources in government.
The Challenge of Consolidating Peace
Political institutions seem to improving as well. The initial presidential election on March 17, 2012, and the subsequent run-off election on April 16 were both conducted peacefully. Political maturity seems to be emerging, as demonstrated through comments leading up to the elections by the leaders of all political parties. They emphasized that "differences in political beliefs shall not result in sparks for social conflict." The final test to demonstrate the establishment of peace will be whether they can successfully maintain civil order in early July with the parliamentary elections and cabinet formation, as well as in December when the United Nations Integrated Mission in Timor-Leste (UNMIT) is withdrawn.
Peace Building and State Building
Countries such as Timor Leste that are emerging from a period of conflict are known as "fragile states." Timor Leste has taken center stage in the fragile states group called the g7+ (*see note), serving as both the first Chair and Secretariat. The group works to promote the idea that "peace building and state building" is of utmost importance to promote development in the fragile state context. The g7+ has been putting Timor Leste's lessons learned from the past 10 years into its practice.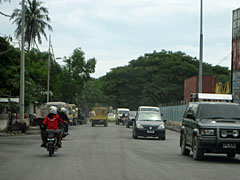 The number of cars in Timor Leste has grown exponentially in recent years.
Since becoming effectively independent in 1999, a variety of donors, international NGOs, and other organizations have entered Timor Leste to provide their cooperation. The riots that occurred in 2006 were caused by domestic conflict and weak institutions, becoming a major setback for the government. Timorese Prime Minister Gusmão even stated, "Our development up until then was not true."
Even after the riots, donors still expected Timor Leste to prioritize the MDGs agenda. In contrast, the government of Timor Leste put all its focus on getting nation-building efforts back on track. They knew that without peace building and state building, any attempts at development would not have much chance of success.
There are also issues in setting up structures, such as public administration. The government of Timor Leste has not been able to effectively accept the technological assistance offered by donors, because it has lacked the human resources capacity to make use of it. Consideration needs to be given to provide assistance in a form that the recipient is capable of utilizing.
Future Challenges in Development
There are many challenges that Timor Leste will have to face in the coming years. They still have no industries that can support an actual economy, and developing these industries is a pressing matter. As mentioned at the beginning of this article, Timor Leste has experienced double-digit growth in recent years. However, most of this growth has resulted from aggressive fiscal spending by the government. Poverty is spread throughout the entire country, and opportunities for stable employment are limited. Moreover, citizens, especially those with low incomes, have been hit hard by inflation in recent times.
Given these hardships, issues such as economic disparity and the fair distribution of benefits must be taken into account as the nation develops to prevent further domestic conflict. Meanwhile, it is essential for citizens to hold the successful creation of a strong nation as a common goal and to make significant efforts in realizing this goal to ensure the advancement of stability.
JICA opened an office in Timor Leste in 2000, before its independence was achieved. While the 2006 riots forced the staff to temporarily retreat to other countries, we returned soon after the crisis and have continuously worked to help restore power and water service outages and to renovate roads, bridges, ports and irrigation facilities. We also provided cooperation as needed to train personnel and organizations to perform recovery work operation and maintenance.
Timor Leste has overcome the instability that occurred in its initial years as an independent nation, and it has entered a new era of development. Now is the time to once again bolster cooperative ties with this country. It is necessary to recognize that as a fragile state, the process in Timor Leste of obtaining outcomes from cooperation and allowing them to firmly take hold has involved more challenges than usual. Given this, a multilayered approach to the development of infrastructure, organizations, systems and human resources is needed to strengthen institutions and to stimulate economic activity.
* The g7+ group was founded at the OECD International Dialogue on Peace Building and State Building meeting, held in the Timor Leste capital city of Dili in April 2010. Its purpose is to bring together countries that share the experience of being fragile states, and it currently includes 17 member nations. Under its slogan "From fragility to agility," the group advocates providing effective assistance and improving assistance mechanisms in accordance with the circumstances that characterize fragile states. They have been actively carrying out this role through various venues, such as the G20 and Busan High Level Forum meetings.
About the Author
Hirohiko Takata joined the Japan International Cooperation Agency (JICA) in 1986. He has served as Representative for the JICA Indonesia Office and Senior Representative for the JICA Philippines Office, as well as Deputy Director General in the Procurement Department in JICA Headquarters. He has been the Chief Representative of JICA in Timor Leste since April 2011.