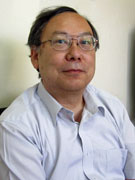 Yoshikazu Yamada
Chief Representative
JICA Afghanistan Office
By Yoshikazu Yamada
Chief Representative, JICA Afghanistan Office
Long ago, the people who lived in Afghanistan had a culture in which they coexisted with nature and enjoyed nature in their lives. The region has been cited as one of the most prominent in the world for its abundance and variety of birds. Dr. Reshad Kahled, Afghan physician and president of the international non-governmental organization Karez Health and Educational Services, laments that whereas the character of the Afghans was once one of hard work by each in their own capacity without expecting anything in return, in more recent times, Afghan society has been overcome by a tendency to allow money to rule everything.
Afghanistan has seen continued civil war since the invasion by the Soviet Union army in late 1970s, and even after the conclusion of civil war, the poor safety conditions remain largely unchanged. As a result, Afghanistan has lost cohesion as a nation, becoming extremely fragile both as an economic entity and as a political entity. Despite the many efforts of the international community, it can hardly be said that a "miraculous reconstruction" has occurred.
Preparing for the withdrawal of the ISAF in 2014
Afghanistan's 2010 gross domestic product (GDP) was ranked number 107 out of 183 countries in a worldwide comparison, about 0.3% of Japan's GDP. Even now in 2012, Afghanistan remains one of the world's most impoverished nations. Turning our attention to the growth of recent years, the results of the rapid post-conflict assistance has been high, an average economic growth over the past five years (2006 to 2011) of about 11 percent per year. The per capita GDP has risen rapidly, from 201 dollars in 2002 to 528 dollars in 2010.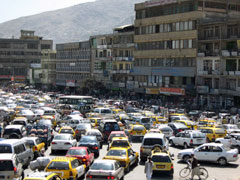 In Kabul, improvements have not been made to the road infrastructure, making traffic jams like this a part of the everyday landscape.
The service sector, however, is the engine driving growth and makes up the largest portion of the GDP, just under 50 percent of the total. The reality is that a great portion of that derives from the purchasing power of foreigners, particularly the International Security Assistance Forces and related personnel, numbering some 140,000 people, as well as aid-related personnel.
The withdrawal of foreign troops, scheduled to be completed in 2014, would mean a drop in GDP, and it is predicted that the withdrawal will have a major negative impact on the economy, including a decrease in resident income due to the drop in aid amounts from every country, deteriorating employment and a dramatic decrease in opportunities to acquire foreign currency. The World Bank is already analyzing the negative impact that will result.
The agricultural sector is the second largest component of the GDP. Productivity in this sector is fragile and easily affected by weather and the natural environment, and even today, domestic demand is not being met. Nevertheless, agriculture is a sector in which high demand is expected to continue even after the troop withdrawal.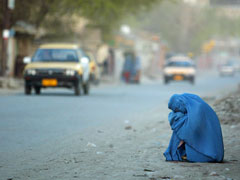 A woman sits on the roadside. Women's issues remain particularly serious.
Furthermore, the government of Afghanistan has recently been intent on mineral resource development. According to a World Bank report, mineral resources hold the potential to lift the GDP growth rate by 5 percent. China has shown a particular interest in acquiring mining rights in connection with such development. In all of this, providing basic socioeconomic infrastructures that include public safety and stimulating economic activity will be the keys to minimizing the negative impact that will occur to the economy from 2014 on.
The environment for Afghan women in particular is extremely distinctive, and improvements are imperative for social stability and reforms in the economic structure. For a long time, women have been deprived of human rights, placing them in extremely difficult circumstances both socially and economically. As one example, in a 2005 UN population forecast, Afghanistan was expected to be one of the few countries in the world where the average lifespan for women is shorter than that for men, averaging 44 years compared to 45 for men. There are many reasons for this difference, including the social restrictions that prevent women from having the freedoms men have, early marriage and the high maternal mortality rate. In thinking about the future Afghanistan, improvements in the lives and status of women will be extremely important, as is their participation in society.
Another considerable problem is widening economic disparity. A decade has passed since the new nation building began, and high-rise condominiums have been built in central Kabul, and a demographic group who can live there has appeared. Also, there are many couples who hold weddings in massive wedding halls built for up to 1,000 guests. However there are many unable to ride this wave of prosperity, forced to live distressed lives even as inflation (17% in 2010) continues apace. The prosperity that we see is rising only in a small portion of the cities out of entire Afghanistan, and the disparity in the standard of living may continue to grow between rural and urban areas.
Assistance that brings "peace dividends"
In a variety of fields, JICA has developed projects in Afghanistan based on the concept of human security. In 2002, I joined the first economic cooperation survey group as the infrastructure project formation planner, dispatched to Afghanistan by the Japanese government. There was still wreckage of destroyed planes at the airport, and the landmine clearing process had not yet been completed.
I recall that, during the survey period, many of us developed physical problems due to fatigue, bacterial diarrhea and other factors. After the completion of the mission, I remained engaged in assistance to Afghanistan, and visited the country more than 10 times on various missions, such as forming infrastructure projects and setting up a JICA office in Afghanistan.
In the initial stage of Afghanistan assistance, urgent development surveys were conducted (such as for the construction of schools and hospitals, and on city road improvements), and bold, flexible projects were conducted, including Asian Highway improvements and medical device purchases, to respond to urgent needs, and the results were immediate and effective.
The people of Afghanistan have tremendous trust in Japan for having been providing reliable, civilian assistance. If the people of Afghanistan can enjoy so-called "dividends of peace " first-hand, there would be a solid base on which we can further evolve our assistance for longer-term development.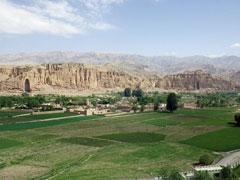 The tranquil rural landscape of Bamyan
Going forward, JICA has identified two important pillars of cooperation. The first is to greatly improve productivity in farming villages through agricultural and rural development to enhance the food self-sufficiency rate. Although it is difficult to create a major export commodity all at once, 80 percent of the people work on farms, and given the bountiful blessings of snowmelt, Afghanistan could rise as an agricultural country, using this hidden potential for increasing the nation's income.
The other pillar is urban and infrastructure development in the Kabul metropolitan area. Although foreign companies, such as mobile phone carriers and drinking water plants, are currently entering the market, new urban development in Kabul is critical from a standpoint of bringing in private funds and creating employment, and would provide the people of Afghanistan with a dream for the future. By focusing on these two areas in a balanced manner, JICA also hopes that its aid will become more visible to the people of Afghanistan and Japan.
This month, an international conference will be held in Tokyo to discuss the reconstruction of Afghanistan. I hope the conference will be a success, in which the international community revisits the history of reconstruction and development in Afghanistan, and truly discusses short-, mid- and long-term development for a peaceful, energetic Afghanistan.
About the Author
Yoshikazu Yamada joined the Japan International Cooperation Agency (JICA) in 1981 and has worked in various functions, including Deputy Resident Representative of JICA Malaysia Office, Deputy Director General of the Office for the Japan Disaster Relief Team, Director of the Office for Climate Change, Special Advisor to Director General of the Procurement Department, and Special Advisor to Director General of the Financing Facilitation and Procurement Supervision Department. He was also seconded to Japan International Cooperation System (JICS), where he further enriched his experience in overseas assistance particularly in infrastructure projects. He assumed his current position in May 2011.