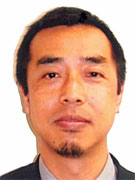 Atsushi Hanatani
Chief Representative
JICA South Sudan Office
By Atsushi Hanatani
Chief Representative, JICA South Sudan Office
On July 9, the Republic of South Sudan (hereinafter referred to as South Sudan) celebrated first anniversary of independence, after attaining the status of the 54th country in Africa. During the past year, various challenges including ethnic conflicts originating in disputes over livestock, diplomatic paralysis with neighboring Sudan over oil revenue sharing, border disputes over oil-producing regions among others have been reported, drawing the interest of people and countries around the world.
Despite concerns about local security conditions, Japan's Ground Self-Defense Force Engineering Unit was dispatched to South Sudan to participate in UN Peace-Keeping Operations (PKO) amid great expectations among Japanese public. South Sudan has celebrated one year of independence, but will it walk the road of stable reconstruction and development, or will disorder break out again? What are the roles of Japan and JICA in South Sudan? In this report, we look at recent developments from a local perspective.
The Suspension of Oil Production and the Economic Crisis
The greatest change that occurred between independence and now in South Sudan is the suspension of oil production. Negotiations over oil transit fees with Sudan have foundered, and in January of this year, South Sudan decided to halt oil production, its largest industry, as a negotiating tactic. As a result, the country's gross domestic product is expected to drop by 70 percent, national revenues 98 percent and foreign currency income 99 percent. Although it is not unusual for a country in the post-conflict situation to undergo economic stagnation, a reduction of 70 percent in the economy itself is historically rare.
To combat this challenge, the Government of South Sudan has introduced full-fledged austerity measures in the annual budget starting from July 2012 to June 2013. The government's original budget proposal, released at the end of June, would curtail benefits and allowances for government employees along with reduction in operating expenses, including those for unnecessary travels and conferences, and capital investments, totalling 6.4 billion South Sudanese pounds (SSP) (about 1.6 billion dollars or 128 billion yen), a reduction of about 30 percent from the previous year. (The proposed budget in neighboring Kenya, announced at the same time, was about 18 billion dollars.) Of this budget, tax revenues and other estimated fixed revenues compose a mere 11 percent, and only about 40 percent of the amount has been secured, including a drawdown of reserve money and loans from domestic private banks. The remaining 60 percent is expected to come from foreign loans, but according to the Ministry of Finance, there are no sure prospects to access foreign loans. Depending on the outcome of negotiations with foreign countries and financial institutions, further budgets reductions are expected.
Of the expenditures, about 60 percent are allocated to security and law enforcement sector, which employ about 200,000 soldiers. As tension over the border with Sudan has not been eased, units are not being dissolved and disarmed, making it difficult to reduce salary expenses for security personnel. Reduction of government employees also being difficult in other sectors (except for halting new hires), personnel expenses have risen to 46 percent of the budget. Other than maintaining security, priority is given to such areas as education, health, agriculture and infrastructure, but because development expenses have been widely cut, 95 percent of the development budget is expected to depend on foreign assistance.
The Impact on People's Lives
Under these critical circumstances, foreign hard currency has already disappeared from the market, and the value of the SSP has dropped more than 40 percent on the black market. The economic structure depends on imports for most consumable commodities, including food for urban residents, and the consumer price index for May of this year recorded a rise of about 80 percent over that of the previous year. It is difficult to obtain such high-demand goods as cement and fuel, and long lines form at fuel stations when word spreads that fuel has come in. With the high prices of goods and shortage of commodities, crime is widely increasing in the capital of Juba and other areas. In rural areas, a reduction in agricultural production is expected because of forced migration caused by strife and conflict both internal and on the borders, rising prices, unstable rainfall and other factors, and about five million people are expected to be at risk of facing a food crisis.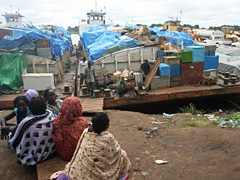 Returnees wait for their belongings to be unloaded at Juba River Port.
In addition to the economic crisis, South Sudan has other major problems as well. Because of the effects of the separation from Sudan and worsening relations, South Sudanese people living in Sudan have been returning to the south in large numbers. Of the reported 500,000 South Sudanese living in the north, about 160,000 are already staying near the north-south border, but crossing unaided is difficult because of worsening safety at the border and a lack of transportation means. International agencies such as the United Nations High Commissioner for Refugees and the International Organization for Migration are therefore conducting large scale return assistance operations, but more effort is needed for the situation to improve given the inability to use the roads because of deteriorating road condition caused by rain. The socio-economic infrastructure for receiving the returnees is extremely fragile.
With the prospect of social services shrinking due to austerity measures, the lives of residents are expected to become even more difficult. Although the Government is trying to encourage citizens, saying, "Even during the 50 years of civil war, we have endured poverty without oil, and we will withstand this crisis as well," the future is unclear as to whether citizens (particularly urban residents) will be able to withstand this hardship, having once enjoyed the benefits of peace and oil revenues, if only for seven short years since 2005.
The Role of Donors in the Economic Crisis
The history and characteristics of South Sudan are unique among the countries of Africa. First, South Sudan has all of the structural factors that can work negatively on stable economic growth, i.e., it is landlocked, has had experience with conflict and resource dependency, and moreover, has not yet managed to completely extricate itself from conflict. Second, the country experienced long-term civil war before independence, and therefore the legal and institutional framework necessary to govern the country as a modern state and for market economy activities is not in place. Third, because of the effects of the civil war, almost no domestic capital has formed and the social service system is fragile in both urban and rural areas.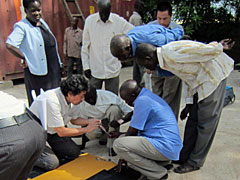 An expert (at left) provides guidance on how to use an axle load gauge to measure the weight borne by a vehicle axis in a project to train technicians to maintain and manage roads.
The United Nations and some bilateral donors are reviewing their assistance strategy in light of the current economic crisis, and have announced the re-prioritization of their aid policy focusing on direct delivery of social services and on food assistance through non-governmental organizations similar to during the civil war. Given their organizational mandates, it is natural for UN agencies with a focus on emergency humanitarian assistance to carry out such a review. However, to input aid resources only into such consumables as service delivery and food distribution does not stimulate the shrinking economy, and is not an adequate strategy for the country to escape from the economic crisis. Support to capital formation and production should continue to receive attention from development partners to sustain economic activities that is threatened to shrink by 70percent. Furthermore, this economic crisis should be regarded as a blessing for diversification of economic structure needed to address the structural factors discussed above.
Fortunately, Japan has a comparative advantage in providing a high-standard infrastructure (decisively lacking in South Sudan) and many years of experience in agricultural development in Africa. Through policy dialogue with the South Sudan government and development partners, JICA will make its policy better understood and appreciated.
JICA's Assistance Strategy
Given the above perspective, JICA places particular emphasis on cooperation that contributes to "economic development," one of four pillars of the national development strategy of the Government of South Sudan (the others being security, governance and social & human development). Specific areas of attention are: 1) transport sector including roads, bridges and river transport and 2) basic urban services (water supply, urban roads, power generation/distribution and waste disposal), where much of the domestic and foreign investment are directed.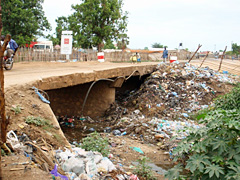 A deteriorating bridge in Juba with waste around it
As part of our effort to support basic infrastructure in urban areas, assistance is directed not only to capital Juba to also to a provincial town with an aim of closing urban-rural disparity. JICA is also partnering with the Self-Defense Forces, dispatched with an aim to contributing to "nation building" in South Sudan. Cooperation in agriculture sector, important not only for food security point of view but from the perspective of economic structure diversification, is also underway, including formulation of a national agricultural development plan for the whole country and promotion of rice production.
In the area of human resource development, support to vocational training is being provided with the intention of encouraging citizens, especially the unemployed youths who are increasing in number because of the influx of returnees, to participate in economic activities. Support is also being provided to health workers and primary school teachers, whose numbers are overwhelmingly short in supply.
In the post-conflict context, producing visible and tangible results is critical for sustaining peace and delivering recovery. In each area we support, JICA not only supports infrastructure development, but also capacity development, an area given serious weight by JICA. Fully mindful of the importance of organizational/institutional capacity enhancement, JICA emphasizes working through the government system – JICA experts operating as mentors and coaches to their counterparts while transferring technology. This "embedded" approach not only resonates well with the philosophy of capacity development, but is helpful in nurturing a sense of trust between the people of Japan and South Sudan over the long term.
About the Author
Atsushi Hanatani
Born in 1959, Hanatani joined the Japan International Cooperation Agency (JICA) in 1989. After working in Kenya and Tokyo, he served as a project formulation advisor at the JICA Tanzania Office, worked at the Africa Department, was a visiting specialist, and was a senior researcher at the JICA Research Institute before taking his current position in August 2011. He is from Shimane Prefecture, Japan.