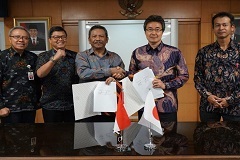 signing ceremony
On June 21, the Japan International Cooperation Agency (JICA) signed a grant agreement with the Government of the Republic of Indonesia inJakarta, to provide grant aid of up to 2.5 billion yen for the Programme for the Reconstruction of Palu 4 Bridges in Central Sulawesi Province.

Under this project, bridges including Palu 4 and other infrastructures damaged by the September 2018 earthquake will be reconstructed with the aim of developing Palu city so that it is more resilient to disaster. It is expected that this project will contribute to the recovery of livelihoods and economic development in Palu city.

JICA provided emergency assistance and dispatched a mission for field research on the status of the disaster soon after it occurred. JICA collaborated with the National Development Planning Agency (Bappenas) in formulating a Master Plan for post-disaster development in Central Sulawesi Province. Technical Cooperation (※) based on the Master Plan is also being implemented so that the region will be more resilient to natural disasters. This project is implemented under these reconstruction activities.

Details for the project are provided below.
[Basic project information]
Country
The Republic of Indonesia
Project title
The Programme for the Reconstruction of Palu 4 Bridges in Central Sulawesi Province
Planned implementation period
36 months, including detailed design work and the bidding period
Executing agency
Ministry of Public Works and Housing
Target region, facilities
Palu city, Central Sulawesi Province
Specific project details (provisional)
①Facility construction
Bridges including Palu 4 and other infrastructures selected by the Government of Indonesia
②Consulting services
Detailed design work, bidding assistance, construction