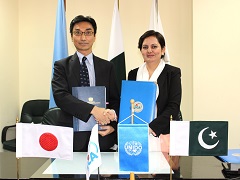 On August 5, the Japan International Cooperation Agency (JICA) signed a grant agreement with the United Nations Industrial Development Organization (UNIDO) in Islamabad to provide grant aid up to 560 million yen for the Project for Agri-food and Agro-industry Development Assistance in Pakistan. This is the first time JICA has attempted a collaboration with UNIDO over a grant agreement.

This project aims at improving the livelihood of farmers and workers in the agricultural industry in the Khyber Pakhtunkhwa and the Balochistan provincial areas. It will be achieved by spreading technology for the cultivation and processing of agricultural products and by introducing equipment and capital needed to process, package and store them. Technical support will also be provided for developing sales channels.

The agricultural sector in Pakistan is a key industry producing around 20% of GDP and supporting about 43% of the employed population. Hence, the Pakistan government is working at making agriculture a priority issue in increasing employment, reducing poverty, and promoting economic development. The target of this project is the Khyber Pakhtunkhwa and the Balochistan provincial areas where 60% of the population is in agriculture or agriculture related work. However, these two provinces have traditionally depended on the self-sufficient cultivation of crops, and with large variations in rainfall, cropping is unstable. In order to spread the risk from the weather, farmers have not depended on a single crop but carried out a varied and mixed type of agriculture. This included grain planting, the cultivation of fruit trees, and raising livestock. Still, many farmers and related industrial workers face economic challenges.

Effective cooperation is expected as UNIDO has rich experience at building agricultural value chains in Pakistan and can activate community networks in order to address these issues.
[Basic project information]
Country
Islamic Republic of Pakistan
Project title
The Project for Agri-food and Agro-industry Development Assistance in Pakistan
Planned implementation period
48 months
Executing agency
United Nations Industrial Development Organization (UNIDO)
Target region, facilities
Khyber Pakhtunkhwa and the Balochistan Provincial Areas
Specific project details (provisional)
(1)Facility improvements / equipment procurement
Agricultural products processing equipment, storage warehousing
(2)Soft component
Technical assistance in building farm product value chains, and improving value added