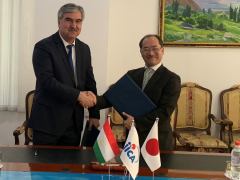 署名式
On Sept. 3, the Japan International Cooperation Agency (JICA) signed a grant agreement with the Government of the Republic of Tajikistan in Dushanbe, to provide grant aid of up to 3.409 billion yen for the Project for the Rehabilitation of Kizilkala–Bokhtar Section of Dushanbe-Bokhtar Road.

Under this project, the transportation and traffic safety in part of the Dushanbe-Bokhtar highway will be improved through the rehabilitation of the Kizilkara-Bokhtar section of the highway, thereby contributing to the economic development of the Republic of Tajikistan.

Details for the project are provided below.

[Basic project information]
Country
Republic of Tajikistan
Project title
The Project for the Rehabilitation of Kizilkala-Bokhtar Section of Dushanbe-Bokhtar Road
Planned implementation period
44 months, including detailed design work and the bidding period
Executing agency
Ministry of Transport
Target region, facilities
Khatlon Province
Specific project details (provisional)
(1) Facility improvements/equipment procurement
Rehabilitation of 9.2km of road (conversion of existing two lanes to four lanes)

(2) Consulting services
Detailed design work, bidding assistance, construction/procurement supervision