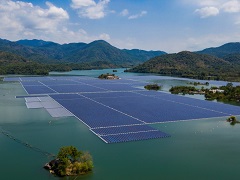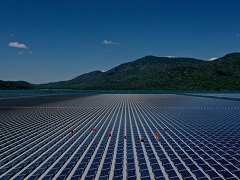 Panoramic view of the power plant
On October 2, the Asian Development Bank (ADB) signed a $37 million loan agreement with Da Nhim-Ham Thuan-Da Mi Hydro Power Joint Stock Company (DHD) to provide funding for installation of Vietnam's first floating solar power plant, $4.4 million of which will be provided in the form of a parallel loan to be drawn from the JICA-supported Leading Asia's Private Infrastructure Fund (LEAP).

This will be Vietnam's first large-scale installation of floating solar PV panels, and marks a step toward reducing the country's dependence on fossil fuels such as coal in favor of clean domestic energy resources. The plant will be located in south-central Vietnam, where solar insolation is particularly favorable for solar electric power generation, and the solar panels will be deployed on water, making land acquisition unnecessary. It is expected that these factors will help the project springboard further promotion and introduction of renewable energy.

The solar panels will be installed on the surface of the Da Mi hydroelectric power station reservoir in the south-central coastal province of Bình Thuan, and will have a peak capacity of 47.5 megawatts (MW). Funding provided by the ADB will include $4.4 million from the LEAP.

The project will contribute to effective use of the reservoir of the Da Mi hydroelectric power station, a part of the Ham Thuan – Da Mi hydroelectric power complex, which was constructed in the late 1990s with support of a Japanese ODA loan.

The LEAP is a part of the follow-up measures for the "Partnership for Quality Infrastructure," which was announced by the Japanese government on Nov. 21, 2015. Targeting high quality private infrastructure projects in the Asia-Oceania region, the fund provides assistance for such projects organized under various arrangements, such as public-private partnerships.

In March 2016, JICA approved a $1.5 billion investment in private sector investment financing for the LEAP. Since the fund's launch, financial assistance totaling $500 million has been approved for a wide range of projects, such as health assurance initiatives in India and Indonesia and renewable energy projects in Mongolia and Thailand. Thus far, LEAP has provided financing for 12 projects, and the ADB, on its own account and together with co-financers, has mobilized $3.7 billion. The LEAP provides support for a wide range of sustainable infrastructure projects undertaken by the private sector in ADB member countries of the Asia-Pacific region, and is directed at projects in fields such as reduction of greenhouse gas emissions, energy efficiency, and provision of medical services at reasonable prices.

JICA will continue its collaboration with countries and international organizations to promote quality infrastructure investment and contribute to social and economic development in developing countries and regions based on the Sustainable Development Goals (SDGs).