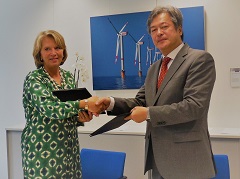 signing ceremony
On September 26, the Japan International Cooperation Agency (JICA) signed a memorandum of understanding (MOU) with the European Investment Bank (EIB)* in Brussels on the occasion of the Europa Connectivity Forum.

Prime Minister Shinzo Abe, European Commission President Jean-Claude Juncker and other heads of state from Asia and Europe, as well as heads of regional development banks, attended the Europa Connectivity Forum held on September 27. The discussion focused on effective resource mobilization, debt sustainability, environmental protection, transparency and good governance for strengthening connectivity between Asia and Europe.

At the forum, Prime Minister Abe and President Juncker signed "The Partnership on Sustainable Connectivity and Quality Infrastructure between Japan and the European Union (EU)," in which the MOU between JICA and EIB was mentioned.

JICA and EIB have collaborated through co-financing of funds in Latin America and the Caribbean and Africa to support energy efficiency, renewable energy and entrepreneurship. With the signing of the MOU, the two institutions will strengthen their partnership in areas such as quality infrastructure investment in line with the "G20 Principles for Quality Infrastructure Investment" endorsed at the G20 Osaka Summit in June 2019, sustainable energy, microfinance and technical cooperation.


* EIB is the public financial institution of the EU established in 1958. It provides long-term financing and expertise for projects that contribute to the integration, balanced development and economic and social cohesion of the EU member states, and carries out operations outside the EU in support of the EU's external policies.