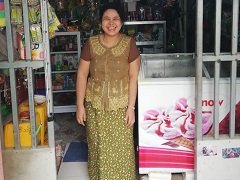 A woman running a retail shop in Myanmar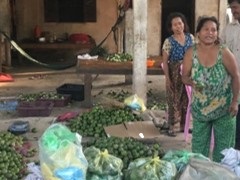 Women engaged in the logistics industry (collecting agricultural products) in Cambodia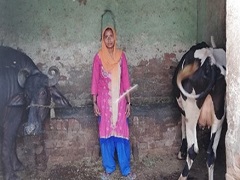 A woman running a dairy in India
On March 24, the Japan International Cooperation Agency (JICA) established "Facility for Accelerating Financial Inclusion in Asia (FAIA)" credit line up to $500 million through Private Sector Investment and Finance .

JICA established this facility to improve formal financial access mainly in the ASEAN regions, and of empowering women, low-income earners and micro, small and medium enterprises (MSMEs) as announced by Prime Minister ABE Shinzo in the Initiative on Overseas loan and Investment for ASEAN(*) at the 22nd Japan-ASEAN Summit in November 2019. This is the first initiative for JICA's Private Sector Investment Finance to establish a credit line for specific development challenges.

[Background]
● By 2030, 600 million jobs will be required in developing countries. It is estimated that 40 percent of those jobs will be at micro, small and medium enterprises (MSMEs) and they contribute to 40 percent of the gross domestic product (GDP) in developing countries. MSMEs serve to absorb the increasing workforce. However, the funding gap of MSMEs in developing countries is over $4.5 trillion. The need to provide funds for MSMEs centered on the ASEAN region continues to expand.
● There are still 1.7 billion adults around the globe without a bank account. They are mostly among low-income population. Reducing poverty through various financial services is thus an issue.
● Furthermore, it is estimated that only 23 percent of the MSME owners are women and some 1 billion women in developing countries do not have bank accounts. Hence, financial inclusion(*1) is an important issue in the financial empowerment of women.
● At the 2010 G20 Finance Ministers and Central Bank Governors Meeting, it was confirmed that expanding access to financial services to individuals and small to medium enterprises in developing countries is of critical importance. Also, the development finance organizations of each country adopted the 2X Challenge: Financing for Women(*2) at the 2018 G7 Summit, planning to mobilize $3 billion for the financial empowerment of women by 2020.

[Overview]
The facility aims to provide financing for local financial institutions in developing Asian countries (centered on ASEAN) that contribute to improving financial access to either (1) MSMEs, (2) low-income population, or (3) women within the scope of the credit line, provided that they show a certain level of credit worthiness and have a certain number of years experience in the applicable field.

Total facility amount: Credit line up to $500 million
Loan amount for individual projects: Up to $100 million per project
Loan terms: Usual Private Sector Investment Finance conditions are applied
Joint financing: Assumes co-financing with development finance institutions or private banks with a internationally significant track record
Period of availability: Three years from establishment of the facility

Improving access to finances is a challenge in developing countries, and is included in SDGs (Sustainable Development Goals) 1, 5 and 8, which covers 'securing financial services including microfinance' 'achieve gender equality and empower all women and girls' and 'improving access to financial services.' JICA aims to use the facility to support improved access to finances for women, low-income earners and MSMEs in Asia while coordinating with development finance organizations and the private sector.


(*1) Financial inclusion refers to providing access to and promoting utilization of quality financial services at an appropriate price with ease and dignity for all people. It is one of the main indicators of SDG 1: "End poverty in all its forms everywhere."

(*2) The G7 2X Challenge: Financing for Women is an initiative in which development financial organizations from G7 countries to utilize their own funding to encourage private sector investment. In doing so, it aims to mobilize $3 billion by 2020 to financially empower women, such as nurturing female entrepreneurs and business leaders as well as promoting entry into the labor market. "2X" refers to doubling the amount of financing and effects on women.