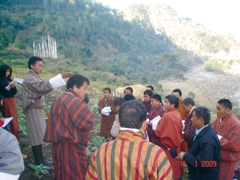 Bhutan Local Governance and Decentralization Support Project (Phase 3)
The district manager and staff from a neighboring province observe a pilot project
It is important to expand the tax base and increase tax revenues in order to implement policies and provide government services in developing countries. For that reason, JICA's initiatives aim to strengthen the administrative capacity of collecting agencies of national tax and tariffs. JICA supports efforts to enhance the policy formulation capabilities of the central government and governmental agencies, including the Ministry of Finance. JICA also promotes capacity development of tax administration agencies to ensure appropriate tax collection based on laws as well as the suitable management and utilization of tax revenues. In addition, JICA provides assistance to internal auditing functions in the public sector and auditing capabilities of supreme audit institutions and other inspection agencies to strengthen their ability to perform audits that identify whether their finances are being appropriately managed.
To reinforce financial systems, JICA provides support with regard to boosting capacity in financial supervision, enhancing financial intermediary functions and improving small business finance. Stability in financial systems and efficient management of these systems underpins the foundations for a country's stable economic policies; therefore, JICA supports development of capacity of central banks and development banks.
For the development of a macroeconomic management infrastructure, JICA provides support for the establishment of economic laws such as competition law, the formulation of macroeconomic models and the improvement of economic statistics including industry-related tables.
Since there are a number of donors with a proven track record in general budget support [1] in the fiscal and financial sector, it is important to harmonize with their support and promote collaboration between financial support and technical assistance. Raising the profile of Japanese assistance while taking limited cooperation resources into account is a future challenge in the fiscal and financial sector.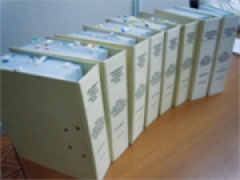 Rule books for international trade that was prepared as part of the Indonesia Project on Capacity
Development for Trade-related Administration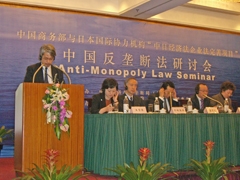 An anti-monopoly law seminar held in China
Note
[1] General budget support: A method of assistance aimed at driving development at the national level in which funds are injected directly into the general account of the recipient country in accordance with an agreed-upon strategy between the developing country and donor countries/institutions.