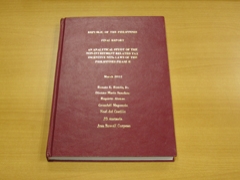 The final survey report
Use of Preferential Taxation Systems and Proposals for Improvements
The Philippines offer a number of preferential taxation measures such as tax exemptions, deductions and refunds in public service fields like education, health and environment. However, the government has not been able to grasp how these systems were being used, how much tax revenue was being lost and if they were achieving their policy objectives. Thus, JICA conducted a survey to determine the usage of these systems, and proposed reforms and formulated action plans to improve their effectiveness and efficiency.
The utilization survey revealed that about 40% of preferential taxation systems were not in use. Moreover, it showed that it was impossible to estimate the amount of lost tax revenue because there is no monitoring in place. (An estimate using a different statistical data showed that the largest source of lost tax revenue was corporate tax exemptions for NPOs and cooperative associations in addition to VAT exemptions for seniors.) Furthermore, weak auditing and supervisory functions were allowing for the preferential taxation systems to be abused or used for other purposes, revealing how the systems were creating an inefficient condition in respect to achieving policy targets.
JICA took the findings to make a number of proposals for improvements, such as establishing guidelines for actions that include auditing, tax investigations, sharing of information among associated departments and agencies, publicizing data on tax expenditures and confirming eligibility for preferential taxes. Introducing sunset clauses [1] was another recommendation. A compiled report of proposals was presented at a seminar attended by government officials, legislators, NPO representatives and others. We look forward to seeing the proposals being applied to produce benefits in the future.
Note
[1] A clause that automatically terminates a preferential taxation system at the end of a certain period.