Nepal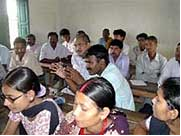 Members of School Improvement Program Committee, teachers, and staff discussing school management
Getting Children Out of Work and Into School in Nepal
Save the Children Japan (SCJ)
(Nov. 2003 - Nov. 2006)
[Nepal: Enabling all the children to go to school]
Eliminating child labor and letting them go to school:
Efforts have been made to improve educational environment for children in 79 primary schools in Mahottari and Dhanusha Districts. These districts are among the poorest regions in Nepal, where girls and children of marginalized group are deprived of education. In these regions, many children could not go to school due to working for their families (for fetching water, washing dishes, collecting fuel wood, taking care of domestic animals, taking care of younger siblings, etc). In this project, under the slogan of "getting children out of work and into school," community people, primary schools, local governments, and NGOs all worked together for the activities to have all the children go to school.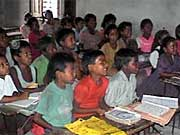 Children earnestly listening to the teacher
About 30,000 children entered schools between 2003 and 2006:
As the activities to eliminate child labor and let children go to school, with youth groups and local NGOs, implementation organization (SCJ) visited the families of children who were not going to school and discussed with their parents. In addition, schools were repaired, voluntary teachers were dispatched to the schools where teachers were insufficient, and literacy education was given to children who had not been educated so that they can enter primary schools.
As a result, about 30,000 children (about 15,000 were girls and about 8,000 were from marginalized group) newly entered primary schools between 2003 and 2006. The rate of the children who go to school increased from 64% to 81% in the project site. The rate of the children who regularly go to school after entering also increased from 63% to 73%.