Country: Samoa
Course Title: Municipal Solid Waste Management for the PIF Countries, 2004 Region Focused Training and Dialogue
Organizer: Okinawa International Center (JICA OKINAWA)
Overview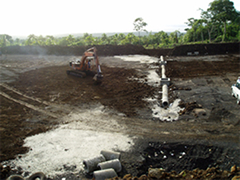 Between 2000 and 2004, JICA alternately hosted a region-focused waste management training course in Okinawa, entitled "Municipal Solid Waste Management for the PIF Countries," as well as a similar third-country training course in Samoa. The Samoan course was conducted in collaboration with SPREP (Secretariat of the Pacific Regional Environment Program) and the WHO (World Health Organization). The third-country training programs run by JICA are aimed at enabling the developing host country to transfer the knowledge acquired in Japan to its neighbors. Conceptually, Japan is the "first country," the nation acquiring Japanese technology is called the "second country" and the neighboring country is considered the "third country."
Samoa sent participants to both training courses. After completing the course, three Samoan alumni worked to construct a new sanitary landfill site on the remote Samoan island of Savaii using a technique outlined in the course called the Fukuoka Method.
Fukuoka University and Fukuoka City cooperated to perfect this innovative semi-aerobic landfill technique in Japan in the 1960s. Semi-aerobic conditions are easily established in landfills designed according to this method by ensuring the quick drainage of landfill leachate. Furthermore, although carbon dioxide is produced, the production of methane is less than that produced by other landfill systems. This is particularly important as the effect of methane on global warming is considered 25 times that of carbon dioxide. Importantly, the initial investment and maintenance costs associated with this semi-aerobic method are lower than those typically related to typical landfill systems.
How the initiative began
Faafetai Sagapolutele, a participant of the third-country training course that took place in 2001, played a vital role in the construction project. Satui Mikaele Teofilo and Poulino Pania, who also participated in region-focused training courses that were conducted in 2002 and 2004, respectively, assisted him. Unlike the capital island of Upolu, Savaii -- the largest island in Samoa -- had no waste disposal site at the time.
Using the knowledge gained at JICA's training courses, and capitalizing on the experience of the landfill rehabilitation work on Upolu, the three men worked together under the guidance of JICA experts collaborating with SPREP. In this way Sagapolutele, along with Teofilo and Pania were able to construct a sanitary landfill site on the island of Savaii using the Fukuoka Method.
The construction costs for the landfill were completely covered by the Samoan government. Two JICA technical cooperation experts were assigned to participate in the initiative from 2000 to 2006. This JICA assistance will continue until 2010 as a JICA Technical Cooperation Project.
Direct impact of Japanese technology
The Samoan example proves that the former participants of these JICA's training courses return to their home countries possessing knowledge of how to immediately apply cost-effective waste management techniques and construct advanced waste management facilities where they are needed most.