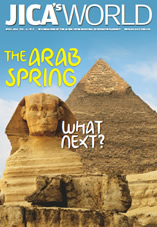 The Arab Spring: What Next?
Cover (PDF/864KB)
Contents (PDF/874KB)

The Middle East
The World's Oldest City: A New Future?
An Ancient Civilization on the Move
"Its been a Long and Exciting Journey"
More Precious than Oil
Forget Becoming a Doctor – Become a Plumber Instead
A New Learning Experience
Hospitals in the Middle East: Chan Ging with the Times
Love Your Sonbut "Treat Him Like a Cat or Dog"