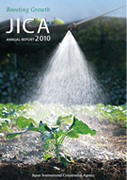 Please select your topic of interest among the PDF files.
Special Feature: Development Assistance as a "Means for Co-Existence" - Confronting a Changing World -
Case Studies
Program Goals and Overview
Concrete Initiatives of JICA's Programs in Fiscal 2009
Region-Specific Activities and Initiatives
Issue-Specific Activities and Initiatives
Implementation System
Cooperation Modality
Operation, Management and Evaluation
Data and Information
Thank you for Your Help with Our Survey
A survey was conducted to help JICA provide readers with a more informative and effective annual report. Thank you for your assistance.