Case Study 3
Building a Network of Infectious Disease Experts
The Agency for Cooperation in International Health (ACIH) in Kumamoto Prefecture, southern Japan, is a center for a global alliance for monitoring infectious disease.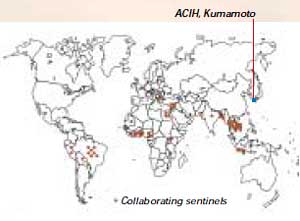 Distribution of Sentinels
Fourteen Years of Handing Down Knowledge and Experience
One late June in Kumamoto, it was a bright and clear afternoon despite an approaching typhoon. In this calm before the storm, ACIH officers were enjoying a moment of quietude, preparing for the opening on the following day of a training course on vaccine-preventable diseases. "We are just in between courses," says an ACIH officer. "Once the course starts, we will be busy again, hectic days will follow one after another."
Ever since its establishment in 1990, ACIH has been designated as an implementing institution for JICA's healthcare training courses. As it stands now, more than 1,000 healthcare experts have completed courses on AIDS, hepatitis, vaccine-preventable diseases, resistant microbes, maternal and child health indices, and agricultural medicine and rural health. The agency carries out six group training courses annually and a separate course for Palestinian healthcare professionals.
Based on the philosophy of the agency's chairman Dr. Isao Arita, courses offered at ACIH emphasize preventive techniques rather than treatment of disease (for an interview with Dr. Arita, see page 2). "Prevention is more cost-effective and it can easily make more people happy than, say, building a hospital," says Dr. Arita, who worked often in the field of Africa and Asia for over two decades fighting smallpox as an officer of World Health Organization Headquarters (WHO/HQ, Geneva) officer. Nowadays Dr. Arita shares his experience with the participants through his lectures.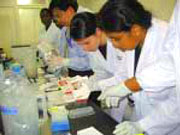 Proper testing is crucial in infectious diseases control.
Building Relations with Each Other and Beyond
For the duration of the courses, participants live under the same roof. "Group training courses allow participants to learn from each other," says the same ACIH official. "They can learn how the same issue is addressed differently in other countries and share their knowledge and experiences. It's an opportunity to build trust and friendships that may be of help to them in the future."
This bonding activity does not stop within the participant population. Home visit programs and cultural events such as tea ceremonies and chorus are provided by a group of women in the community who identify with the philosophy of the agency. "My wife happens to be a member of the regional chapter of Soroptimist International*, so I've had some of the participants come over to my house for dinner party," says Dr. Arita. "They can get to understand Japan and its people better that way, and it's a good opportunity for us as well to learn about the world."
Sentinel Surveillance, a Network of Former Participants
Since 1997 ACIH has been conducting an aspiring project, which is an attempt to get practical use from the human network built up during participants' stay in Kumamoto. The project, called Alumni for Global Surveillance Network, is an information network for monitoring the outbreak and spread of infectious diseases. Currently, 59 former participants from 29 countries are registered as sentinels and send in reports every three months by fax or email. "This is done purely on a voluntary basis, but the sentinels are very active. We relay the data which comes straight from the field to WHO as well," says Dr. Arita.
As the sum total of the participants expands, the size and precision of the surveillance network is expected to grow with it. In that way, the former participants become the guiding beacon on our way toward a better world without infectious diseases.
* Soroptimist International: a worldwide organization for women in management and the professions working through service projects to advance human rights and the status of women.