Case Study 2
Supporting Iraq's Reconstruction in Concert with Egypt and Jordan
JICA's support for Iraq's reconstruction is partly taken in the form of support for South-South cooperation in Egypt and Jordan. Why is it effective that way? Let's find out.
A Good Relationship Leads to a New Collaboration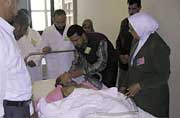 Iraqi medical practitioners during a medical training in Egypt.
Speaking of its support for Iraq, JICA officials said, "Yes, it's indeed a remote-control operation." JICA has encountered great difficulties in its efforts to support Iraq efficiently due to political and security restraints. For this reason, JICA is assisting Iraq's reconstruction efforts through its technical training programs by inviting Iraqi professionals to Japan and to neighboring Arab countries, mainly to Egypt and Jordan, which share a common linguistic and cultural heritage with Iraq.
In 2003, Japanese Prime Minister Junichiro Koizumi visited Egypt and met with Egyptian President Hosni Mubarak. Prime Minister Koizumi affirmed Japan's support for mutual collaboration among the Arabic countries. The two leaders agreed to promote cooperation to provide their assistance for the reconstruction of Iraq in areas such as medical services and electricity. Japan has supported Cairo University Pediatric Hospital since 1982. The medical training programs for the Iraqi experts were jointly carried out by JICA and Cairo University Pediatric Hospital.
JICA's assistance for Jordan mainly focuses on the fields of water, electricity, cultural heritage preservation and tourism with the aim of national capacity development in these fields. Jordan has been collaborating with JICA in facilitating the training programs for Iraq in the aforementioned areas.
Making the Most of Each Country's Strong Points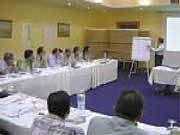 Participants to the water resources management training course held in Jordan listened intently to the lecturer.
Starting with a medical technical training program at Cairo University in 2003, JICA, in collaboration with Egypt and Jordan, has conducted around 20 training programs in both countries by the end of March 2004.
Priority has been placed in areas such as medical services and electricity which are of vital importance to people's everyday lives. The future targets will include governance, agriculture and industry. A total of 227 Iraqi medical practitioners visited Egypt to participate in the training programs for nursing, primary healthcare, emergency care, cardiology, pediatrics, ICU, endoscopy, and oncology. In Jordan, a total of 255 Iraqi trainees participated in various fields of training such as electricity, network system, welding, cable jointing, statistics, water resources management, cultural heritage, IT education, water and sewage, and reproductive health.
Despite the fact that Egyptian and Jordanian counterparts were initially concerned about the outcome of the training due to the lack of communication with Iraqi trainees, the evaluation of each training program indicated that both the Iraqi participants and the counterpart agencies were satisfied with the training. More programs are planned for fiscal year 2005 based on the evaluation reports. Syria is also planning to contribute to South-South cooperation for Iraq through a training course on agriculture. Collaboration among Arabic countries to assist Iraq through JICA's third-country training programs is expected to nurture mutual friendship in the region.
The newly formed JICA Alumni Association for Iraqi people who participated in the JICA training is an indispensable driving force for sharing their newly gained skills and knowledge with their fellow nationals as well as supporting JICA's various activities in the country (See page 11 for the report on the Association).