Case Study 3
Japan-Chile Partnership Programme Expands the Horizon of JICA's Activities in Latin America
The Japan-Chile Partnership Programme (JCPP) that has concluded between Japan and Chile is a fine example of JICA's promotion of South-South cooperation in Latin America. How did it begin, and how has it been?
A Win-Win Partnership for Chile and Japan

With a support from Japan, aquaculture has grown into one of the major industry in Chile. Chilean expert in the field now shares their knowledge with their Latin American counterparts.
After the foundation of the International Cooperation Agency of Chile (AGCI) in 1990, the government of Chile had been actively engaged in promoting what it described as horizontal cooperation, providing assistance to the development of Latin American countries. JICA had been supporting this effort, regarding it as an effective undertaking since it was conducted between countries that share a common language, customs, and historical and cultural background.
Then in 1999, the Japan-Chile Partnership Programme was concluded between the governments of Japan and Chile in order to further support Chile's effort in South-South cooperation. JCPP is a framework designed to enable Japan and Chile to act as development partners in implementing collaborative projects for the development in Latin America.
For JICA, supporting its Chilean counterpart AGCI's efforts through JCPP provides a way to forward the successful results of the technical transfers from Japan to Chile in an efficient and effective manner.
The partnership is also seen as a big advantage for Chile. AGCI officials have reportedly said that by working with JICA, the organization's credibility has become elevated and they are able to attract more participants. Also from 2003, a technical cooperation project "Strengthening the JCPP" by JICA has been in place separately from the partnership programme to help AGCI improve their ability in project formulation, management and evaluation, with an aim of strengthening the JCPP.
Transferring the Best of its Experiences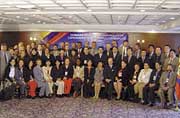 In September 2004, AGCI and JICA co-hosted a conference on south-south cooperation for capacity development.
One of the main features of JCPP's cooperation activities is that it employs the "mini-project" approach that mixes together various cooperation methods such as third-country training, dispatch of Chilean experts, and supply of supporting material. In general, a miniproject lasts for three years and it presents a specific aim to be achieved during this period.
In addition to the mini-projects, regional seminars, country specific training programs, and dispatch of Chilean experts have been planned and conducted under the JCPP scheme.
The development challenges covered by the activities of JCPP are in the fields where Chile has come to possess particular strengths and experiences, such as education, narcotics control, small and medium enterprise development, and animal and plant quarantine. For example, a three-year mini-project on animal and plant quarantine in Bolivia from 2001 to 2004 saw an annual dispatch of about seven Chilean experts, who contributed to the introduction and establishment of the system into Bolivia.
Other fields covered include areas where JICA's support had contributed significantly in the Chilean people's capacity development, such as aquaculture, environment, and communication technologies. One prominent example is the activities in commercial shellfish farming. JICA had provided assistance to Chile in salmon farming since 1980s and the country has become the world's second largest salmon producer today. During the same period, JICA assisted the Chilean university, Universidad Católica del Norte, in shellfish farming. Presently, training courses and expert dispatch on shellfish farming is a regular subject on JCPP's project list.
Both AGCI and JICA keep their eyes on the development needs in Latin America each year. Through a joint annual meeting to review their findings, they plan their activities for the next year. JCPP will continue to move forward in order to provide a better tomorrow for the people in Latin America.