What's happening at JICA's domestic and overseas offices? Find out about the latest activities, announcement and information.
Field Offices Open in Chad and Sierra Leone
In January JICA opened a field office in Sierra Leone, and then in February opened another in the city of Abéché in eastern Chad.
In Sierra Leone, JICA has been offering reconstruction assistance in earnest following the conclusion of the civil war. The newly opened office is now conducting a project-formulation study to assist in the rehabilitation and reintegration into society of children, former child soldiers and girls who were the victims of sexual violence during the civil war. Also, a follow-up study is underway for grant aid programs to supply water to rural areas.
The Chad office was established to provide assistance for people in Chad living near Sudanese refugee camps. The rush of refugees from Darfur, Sudan into Chad had an adverse impact on the lives of residents in the areas surrounding refugee camps, causing a supply shortage in drinking water, plants for cattle feed, and firewood. JICA has sent a team of agricultural development experts and project management experts to the areas, so that assistance for residents to improve their life can soon get underway.
For the Promotion of Justice and Development: Transitional Justice and Human Security Conference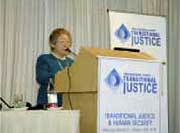 In her keynote speech for the Transitional Justice and Human Security Conference, JICA President Mrs. Ogata stressed the importance of promoting coexistence.
JICA cohosted a five-day seminar on transitional justice and human security on March 28 in Cape Town, South Africa, with the International Center for Transitional Justice (ICTJ), a New York-based international NGO.
Transitional justice refers to the process of restoring the rule of law to support the process from conflict to peace. The seminar provided an opportunity to share experiences that would be useful for future efforts in peacebuilding. Leaders who played a crucial role in the process of post-war peacebuilding in such countries as East Timor, Peru, Rwanda, Sierra Leone, Liberia, Congo, Sudan, Serbia-Montenegro, and Sri Lanka were present, along with top officials from the United Nations, Hague Tribunal, and International Criminal Tribunal for the Former Yugoslavia.
In her keynote speech, JICA's President Mrs. Sadako Ogata introduced the concept of "coexistence" as key in the reconciliation process and stressed that collaboration can be encouraged by incorporating coexistence activities in development projects. She pledged that JICA will support peacebuilding efforts through linking development to justice issues whenever possible.
Assistance for peacebuilding has been one of the major agenda items of JICA's activities. In recent years, JICA has been extending support to post-war countries including Afghanistan, Congo, Sierra Leone, and Rwanda for their peacebuilding efforts.
Support for Sumatra Earthquake and Tsunami-affected Countries' Recovery Continues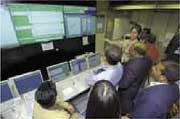 Training participants visited Japan Meteorological Agency as part of the training program for
JICA's activities in the tsunami-affected areas in Indonesia, Sri Lanka, and the Maldives continue today, following the initial disaster relief activities by the Japan Disaster Relief Team.
Since March 2005, JICA has been carrying out projects in each of these countries for their recovery, rehabilitation, and development.
In Indonesia, JICA is identifying critical issues and formulating an integrated reconstruction and empowerment plan in the city of Banda Aceh. JICA also supports the rehabilitation of social infrastructure, including water supply, schools, and healthcare facilities. In northern Sumatra, meanwhile, JICA has been collecting and analyzing information related to the rehabilitation and reconstruction of the West Coast Road.
In Sri Lanka's northern and eastern regions, JICA is formulating an integrated recovery, rehabilitation, and development program, including support for rehabilitation of infrastructure and fishery communities. In the south, it is assisting the implementation of recovery and rehabilitation projects for fishing harbors and communities, while also providing technical assistance necessary for the rehabilitation of four tsunami-affected trunk roads.
In the Maldives, JICA has been formulating the detailed rehabilitation and reconstruction plans for heavily affected areas, while supporting the rehabilitation of housing, water supply, roads, sanitation facilities, and fishing facilities.
Meanwhile, a training course on the tsunami early warning systems was offered in Japan inviting senior officials of disaster-reduction agencies from 11 countries in the region. Division chiefs from agencies responsible for tsunami forecasting and tsunami warning systems in Indonesia, Malaysia, Thailand, Myanmar, Bangladesh, India, Sri Lanka, the Maldives, Kenya, Tanzania, and the Seychelles spent nearly two weeks together in early March to jointly work for the establishment of the tsunami early warning mechanisms around the Indian Ocean.