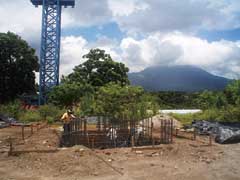 Construction of a tilting table, used to test a structure's earthquake resistance, began in August 2006.
Enhancement of Technology for the Construction of Earthquake-Resistant Housing
In 2001 a major earthquake hit El Salvador, destroying 12% of all buildings in the country and damaging another 8%. Some 60% of all affected structures were buildings of substandard construction that housed impoverished families. To strengthen the country's disaster prevention capabilities, the Salvadorian government integrated the observation and disaster forecast sections of a number of ministries into one unit, the National Service for Territorial Studies, under the direction of the nation's Ministry of the Environment.
However, El Salvador lacks the human resources and equipment to develop earthquake-resistance technologies. In response to a request from the Salvadorian government, JICA launched a project called Enhancement of Technology for the Construction of Earthquake-Resistant Housing. The project includes cooperation with Mexico, which has already received training in this field from JICA, and aims to improve the quake resistance of housing for the poor.
Universities in El Salvador are working with technical aspects of the project, while housing promotion is being conducted by the Salvadorian Foundation for Development and Low-Cost Housing, an organization with significant experience in this field. Personnel at all organizations are receiving guidance from Japanese and Mexican engineers.
The aims of this project—protecting the poor by reducing earthquake-related risks and empowering the people of El Salvador to improve their own living environment—clearly embody the human security perspective.