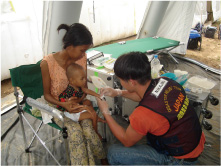 Medical help for Myanmar
In the tiny Himalayan state of Nepal a newly built highway linking the capital of Kathmandu with the country's agricultural breadbasket on the Terai Plain is transforming the lives of farmers, small businessmen and schoolchildren living along the route. The Sindhuli Road has been rebuilt with Japanese grant aid.
Across Africa local micro-finance projects and small and medium-sized business enterprises are being launched with the help of 11.5 billion yen in soft loans provided by the Japan Bank for International Cooperation (JBIC). In Central America Japanese volunteers and experts from the Japan International Cooperation Agency (JICA) are helping to combat the deadly Chagas disease while in China and Myanmar other specialists from the Japan Disaster Relief (JDR) system recently helped some of the hundreds of thousands of victims of an earthquake and cyclone which struck those regions.
All of those projects are part of Japan's Official Development Assistance (ODA), but until now were administered by separate government organizations, the Ministry of Foreign Affairs, JICA and JBIC.
Beginning Oct. 1, after several years of major restructuring, all that will change. That part of JBIC dispensing soft loans and the grant aid dispersed by the Foreign Ministry will be merged with the cooperation agency into one organization,'New JICA.'
This agency, with some 10 billion dollars of available financial resources, will reputedly be the world's largest bilateral development organization working in around 150 countries, its core professional staff reinforced at any one time by several thousand experts and consultants and both young and senior volunteers working on hundreds of projects.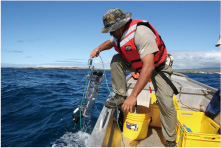 Environmental protection in the Galapagos Islands
Uniquely, and for the first time, one Japanese agency will be able to provide technical assistance, yen loans and grant aid 'all under one roof'. JICA President Sadako Ogata, who will head the expanded organization, said, "This decision marks a major historical turning point, not only for JICA, but also for Japan's ODA."
The merger also comes at what Mrs. Ogata called a 'crossroads' in Japan's development assistance.
In the 1990s Japan was the world's single biggest bilateral donor, but in the last decade the country's ODA has fallen by 40% because of prolonged economic recession and need for fiscal reform. Noting that Japan had now fallen behind the United States and several European countries in overall assistance, Mrs. Ogata said this trend needed to be reversed.
The world is also facing new challenges such as climate change, increasing environmental degradation and a global food crisis, and Mrs. Ogata said New JICA must continue to evolve policies and projects to meet those new problems.
Major Policy Instrument
Development assistance has been one of Japan's major foreign policy instruments since the end of World War II, and in the intervening decades it has undergone constant readjustment.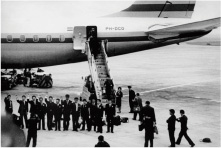 1966: Japan's first volunteers
In its first step to rejoin the international community in the postwar years, Japan in 1954 became a member of the so-called Colombo Plan and initiated a series of technical cooperation programs with regional neighbors. Eight years later the Overseas Technical Cooperation Agency (OTCA) was established, followed three years after that by the launch of the Japan Overseas Cooperation Volunteers (JOCV) program.
JICA was founded in August 1974 and was re-launched as an independent administrative institution in October 2003 to "contribute to economic and social advancement in developing countries and help expedite Japan's international cooperation."
The Japan Bank for International Cooperation (JBIC) was established in October 1999, when the then Export-Import Bank of Japan and the Overseas Economic Cooperation Fund, Japan, merged with the aim of fostering international commerce, strengthening economic cooperation between Japan and overseas countries and promoting sustainable development in poorer nations particularly through social and environmental programs.
The most recent ODA reorganization began in 2005 when then Prime Minister Jun­ichiro Koizumi launched an ambitious plan not only to downsize the administrative apparatus of ODA, but at the same time make it more responsive and cost effective for the taxpayer.
International Responsibilities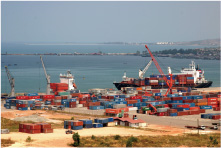 Loan assistance for Cambodia's ports
"Development assistance constitutes the largest element of Japan's contributions to the international community," Mrs. Ogata said in a New Year message to JICA staff, "and implementing it speedily and steadily is essential in order to fulfill our country's international responsibility as a major economic power."
Ogata, a former High Commissioner for the U.N. Refugee Agency (UNHCR), began structural and project changes within JICA even before the merger was finalized. She shifted more staff to field operations and encouraged wider field participation in identifying and shaping relevant projects.
A concept called 'human security' which Mrs. Ogata helped to formulate in the 1990s has been increasingly incorporated into JICA programs. While acknowledging the ongoing importance of top-down large-scale and nationwide infrastructure programs such as road building, human security emphasizes a 'bottom up' grass-roots approach, giving local citizens and communities a greater say and role in education, health and economic projects which directly benefit them.
Increased Help for Africa
JICA has also emphasized increased help for Africa's 900 million people and recently announced two major programs to help double that continent's rice production within 10 years and train some 100,000 local health care workers to tackle one of Africa's most serious problems, the unacceptably high mortality and sickness rate among pregnant women, new mothers and their children.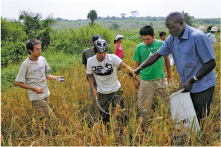 Helping improve Africa's rice production
As members of the Japan Disaster Relief (JDR) system, JICA members assist in natural calamities around the world, recently helping victims of a massive earthquake which rocked southwest China and a devastating cyclone which ravaged Myanmar.
Since the first young Japanese volunteers left for Laos on Christmas Eve, 1965, more than 30,000 have now served in countries around the world and the program is one of the most popular sections of Japan's regular help to developing countries.
In the largest training program of its kind in the world, the organization each year helps to train more than 8,000 participants from countries around the world in hundreds of disciplines ranging from health care and agriculture to the environment and climate change.
New JICA intends to significantly expand basic research into developmental issues, strengthen ties with other international donors and actively promote greater private participation in development projects.
Going forward, Mrs. Ogata said, New JICA will work on the principle of the three SSSs—speed up, scale up and spread out: speeding up projects by closer coordination of technical assistance, loans and grant aid, 'scaling up' successful pilot projects to larger programs and 'spreading out' by enlarging community-based activities and combining grass-roots cooperation with NGOs, volunteers, experts and private organizations.