Jakarta, 3 November 2020, Japan International Cooperation Agency (JICA) through the project for Enhancing the Quality of Maternal and Child Health Program and the Implementation of Maternal and Child Health Handbook in the Era of Decentralization have provided medical equipment and hygiene goods to support Indonesia's effort to contain the COVID-19 outbreak.
JICA handed over 3276 digital non-contact infrared thermometers to strengthen the maternal and child health services in 1638 primary health centre, known as puskesmas, in Indonesia as part of its technical cooperation project from 2018 to 2023 with Directorate of Family Health, Directorate General of Public Health, Ministry of Health Indonesia. The provided non-contact infrared thermometers are expected to be in use at the health facilities for COVID-19 related and other health services including Maternal and Child health. The model chosen was MC-720 made by OMRON, a Japanese leading medical equipment producer, known for its excellent quality and after-care service.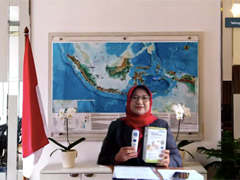 dr. Kirana Pritasari MQIH. - Direktur Jenderal Kesehatan Masyarakat Kemenkes RI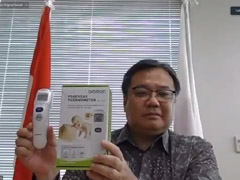 Shigenori Ogawa, Chief Representative of JICA Indonesia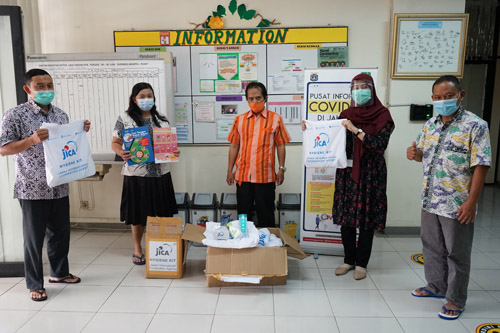 Representative of JICA hands over hygiene kits to Central Jakarta Health Agency
On the same day, JICA in collaboration with PT. KAO Indonesia, a global chemical and consumer goods company with Japan origin, through JICA Indonesia Campaign for Better Hygiene, provides 1600 sets of Hygiene goods to Ministry of Health, Health Office and health center (Puskesmas) in 5 provinces. A goodie bag with JICA logo contains well selected hygiene goods, such as forming hand soap, hand-sanitizer, washable mask and eating utensil. Information material made by the Ministry of Health for prevention of COVID-19 is also provided inside. We hope that these items can support health officers during the effects of the pandemic.
Under the current pandemic situation, the hand-over ceremony was open and conducted online both at JICA and the Ministry of Health, inviting local media.
JICA continue the commitment in response to COVID-19 Pandemic. As per Japan Prime Minister referred in his speech to United Nations in late September, JICA will work towards the goal of 'leaving no one's health behind', in other words, universal health coverage. JICA will continue to support the strengthening of developing countries' capacity to prevent, diagnose and treat diseases including COVID-19, and work towards ensuring fair and equitable access for all, including those in developing countries.
'JICA is committed in expanding its efforts in developing countries to build hospitals as well as to assist in strengthening health and medical systems through providing equipment and supporting human resource development,' Shigenori Ogawa, Chief Representative of JICA Indonesia.
Finally, JICA are also aware of the importance of ensuring health security in a wider context, where our commitment is extended to the conditions of water, sanitation and hygiene, nutrition and other environmental factors.
The assistance provided by JICA shall make the maternal and child health services continue to provide services even though during the pandemic situation. The provision of equipment is aimed at assisting the vulnerable groups impacted by the pandemic especially for maternal and child health services in the primary health center in Indonesia. Also JICA support for health officers in Indonesia.
For further question please contact:
Japan International Cooperation Agency (JICA)
Sentral Senayan II Buidling 14th floor, Jl. Asia Afrika No. 8
Hanum Hapsari - Hanum-Hapsari@jica.go.jp - +62 8111 606 504