GDN Fourth Annual Conference (Cairo)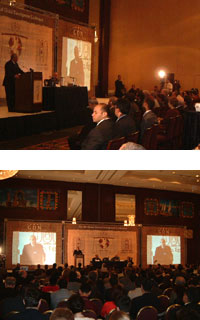 The Fourth Annual Conference organized by the Global Development Network was held in Cairo, Egypt, during January 19-21, with the Government of Egypt providing full support. Among about 500 participants - academic researchers, aid practitioners and policymakersg - athered from around the world were Ms. Suzanne Mubarak, the First Lady of Egypt, Prime Minister Atef Ebeid of Egypt, Professor Saskia Sassen of the University of Chicago, former President Ernesto Zedillo of Mexico, and President Benjamin Mkapa of Tanzania. Vigorous discussions took place on the conference theme of Globalization and Equity.
The Japanese contribution during the conference included the thematic session on "Globalization and Pro-poor Growth in Asia," organized by Japan Bank for International Cooperation (JBIC), and the session on "Globalization Carried on Human Feet: Cross-Border Diffusion of New Knowledge," organized by the Institute of Developing Economies, Japan External Trade Organization (IDE-JETRO).
In parallel with the conference, a Knowledge Fair, an exhibition participated by 28 organizations was also held. GDN-Japan opened a booth there and presented its activities.
On the final day, the presentation by the Finalists for the third Global Development Awards took place. Mr. Masahiro Kawai, then Deputy Vice Minister for International Affairs, the Ministry of Finance, Japan, served as a selection committee member in the research section and Mr. Keiichi Tango, then Executive Director of the JBIC Institute, served as a selection committee member in the project section.