The Japan International Cooperation Agency (JICA) has been working toward the enhancement of its country-specific and issue-specific approaches by formulating JICA Country Programs, implementing Project Request Surveys, and drafting Thematic Guidelines. To improve further JICA Country Programs and deal with important development issues requires appropriate formulation of programs and projects based on a fundamental understanding of development issues and effective approaches toward them, while recognizing that situations and issues differ from country to country.
Therefore in FY2001 JICA conducted the study on "Approaches for Systematic Planning of Development Projects" in four issues: Basic Education, HIV/AIDS, Rural Development, and Promotion of Small and Medium Enterprises (SMEs) The study systematized these issues and specified the indicators to be used as references in planning, monitoring and evaluating JICA's activities. Furthermore, the study reviewed JICA's previous projects and summarized their trends, matters of concern and representative cases for each issue, based on Development Objectives Charts. In FY2002. Four new development issues were taken up: Higher Education, Trade and Investment Promotion, Poverty Reduction, and Information and Communication Technology. The results of this study will be adopted in the JICA Thematic Guidelines and further developed by the Agency Thematic Network.
In conducting the study and preparing this report, a task force composed of four groups was set up, and each group was responsible for drafting the respective article. The final study report was completed as a result of revisions of the draft articles based on the discussions at the Study Group meetings and a number of comments received from JICA staff of overseas offices and headquarters as well as external experts.
For your comments and inquires, please refer to the following address:
Research Group
Institute for International Cooperation (IFIC)
Japan International Cooperation Agency (JICA)
E-mail: iictae@jica.go.jp
FAX: +81-3-3269-2185
< Higher Education >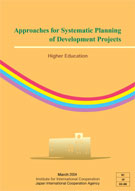 < Trade and Investment Promotion >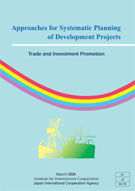 < Poverty Reduction >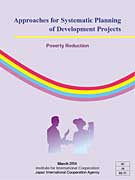 < Information and Communication Technology >