Institute for International Cooperation
Japan International Cooperation Agency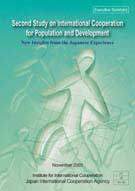 Japan's contributions to solving population issues in developing countries have been through technical assistance on a bilateral basis as well as through contributions to international organizations. Since 1994, Japan has provided more than 3 billion dollars of assistance to population and AIDS programs based on the Global Issues Initiative (GII). In 1992, the Japan International Cooperation Agency (JICA) organized a Study Group on Development Assistance for Population and Development, and has made recommendations regarding assistance in the field of population.
Despite these efforts, however, population issues are still a major challenge for humankind, especially for people in developing countries, and are directly related to the environment, to our food supply, and to development. These issues continue to become increasingly complex and serious. In the light of this situation, JICA organized a Second Study Group on Development Assistance for Population and Development in August 2001 to formulate a new direction for assistance based on the major changes in the trends seen at the Cairo Conference in 1994 (International Cooperation on Population and Development) and other recent population conferences.
This study group comprised nine committee members and advisors with Dr. Makoto Atoh (Director General of the National Institute of Population and Social Security Research) as its chairperson, along with a taskforce of six members, and held a total of 13 study meetings. It also enlisted the cooperation of 28 experts from both within and outside of Japan to participate in the study meetings and preparatory meetings as well as to write reports. This report is a summary of the fruits of all these efforts (the report is originally made in Japanese).
For comments and inquiries, please E-mail or fax to the following Address or Number.
Research Group,
Institute for International Cooperation,
Japan International Cooperation Agency
E-mail: iictae@jica.go.jp FAX: +81-3-3269-2185
Foreword-Acronyms and Initials (PDF/194KB)
Foreword
Preface by the Chairperson
Principal Introduction
List of Members of the Second Study Group
Acronyms and Initials
Chapter 1 Population Issues in the Twenty-First Century (Overview) (PDF/163KB)
1-1 Global population trends: hotspots of population issues
1-2 The earth at 10 billion: population growth and sustainable development
1-3 Paradigm shift to the human rights approach: Cairo Conference's Program of Action
1-4 Global aging
1-5 HIV/AIDS
1-6 International migration and increasing urbanization
Chapter 2 Japan's Demographic Experience (PDF/80KB)
2-1 Japan's demographic transition
2-2 Contributions to the post-war demographic transition
Chapter 3 Trends in International Population and Development and Japan's Cooperation (PDF/68KB)
3-1 Review of international and Japan's development assistance trends in the field of population and development
3-2 JICA's efforts for GII
Chapter 4 Field Survey Report (Bangladesh and Thailand) (PDF/40KB)
4-1 Outline of the field surveys
4-2 Major findings from the Bangladesh field survey
4-3 Major findings from the Thailand field survey
4-4 Considerations
Chapter 5 Population Strategies for the Twenty-First Century (Recommendations) (PDF/86KB)
5-1 Recommendations on population issues
5-2 Recommendations for JICA's assistance