Developing countries are facing a range of development issues, which are becoming more diverse and complex. In order to adequately address these issues, the Japan International Cooperation Agency (JICA) has been strengthening its country-specific and issue-specific approaches. As part of such efforts, JICA reorganized its headquarters in 2004 for more effective and efficient operations. In particular, JICA established thematic departments, which are designed to accumulate knowledge and expertise in each sector or on certain development issues and thus enhance the capacity to deliver technical assistance to developing countries.
Further, as part of concrete efforts to enhance its capacity to deal with development issues, JICA is undertaking issue-specific Project Request Surveys, and producing Country Programs, Thematic Guidelines and Knowledge Site (web database storing information and knowledge on JICA's activities). Still, wide differences remain within JICA on how to place development issues and program approaches in the proper context. In order to plan and implement cooperation activities that appropriately and accurately address the important issues for a particular country, it is necessary to identify the aspects that JICA should focus on, based on a basic understanding of the full scope of each development issue and effective approaches to addressing it, and in accordance with the situation of each country.
This study was conducted as part of efforts to strengthen the above mentioned issue-specific approaches, and is Phase IV of a program of study, following on from the three phases conducted since 2001. The first three phases covered 11 development issues (Basic Education, Anti-HIV/AIDS Measures, Rural Development, Promotion of Small and Medium Enterprises, Poverty Reduction, Trade and Investment Promotion, Higher Education, Information and Communication Technology, Water Resources, Reproductive Health, Agricultural and Rural Development). Phase IV has focused on the four issues of "Urban and Regional Development," "Transportation," "Water Pollution," and "Air Pollution." It has systematically analyzed each development issue, identified effective approaches to achieving the development objectives, and also suggested priorities and considerations for JICA's future activities. We sincerely hope that reflecting the findings of this study in JICA's Thematic Guidelines, and further strengthening issue-specific approaches will lead to more effective planning and implementation in future technical cooperation.
In conducting the study and preparing this report, a task force was set up comprising JICA staff, senior advisors, associate experts, technical support staff, and consultants. A considerable number of JICA staff members, as well as external experts, further contributed by offering valuable comments on the draft report. We would like to take this opportunity to acknowledge the efforts and contribution of all of these individuals.
For your comments and inquires, please refer to the following address:
Research Group
Institute for International Cooperation (IFIC)
Japan International Cooperation Agency (JICA)
E-mail: iictae@jica.go.jp
FAX: +81-3-3269-2185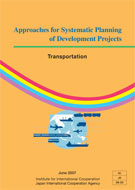 < Transportation >
Foreword, Terms and Abbreviations, Contents, Outline of Study, Overview of the Effective Approaches for Transportation: Executive Summary
Chapter 1 Outline of the Transportation Sector (PDF/54KB)
1-1 Current State of Transportation
1-2 Definition of Transportation
1-3 Trends of International Assistance
1-4 Trends in Japan's Assistance
Chapter 2 Effective Approaches for Transportation (PDF/157KB)
2-1 Transportation Objectives and Issues
2-2 Effective Approaches for Transportation
Chapter 3 Directions of JICA's Cooperation (PDF/73KB)
3-1 JICA's Priorities and Points for Concern
3-2 Issues for Future Consideration
Appendix 1 JICA's Major Activities (PDF/110KB)
Appendix 2 Activities of Major Donors in the Transportation Sector (PDF/170KB)
Appendix 3 Basic Check List (Transportation) (PDF/35KB)
Appendix 4 Issues and the Current State of Transportation Sector in Developing Countries (according to income level and region) (PDF/38KB)
Appendix 5 Transportation Sector Development Objectives and Environmental Strategies (PDF/27KB)