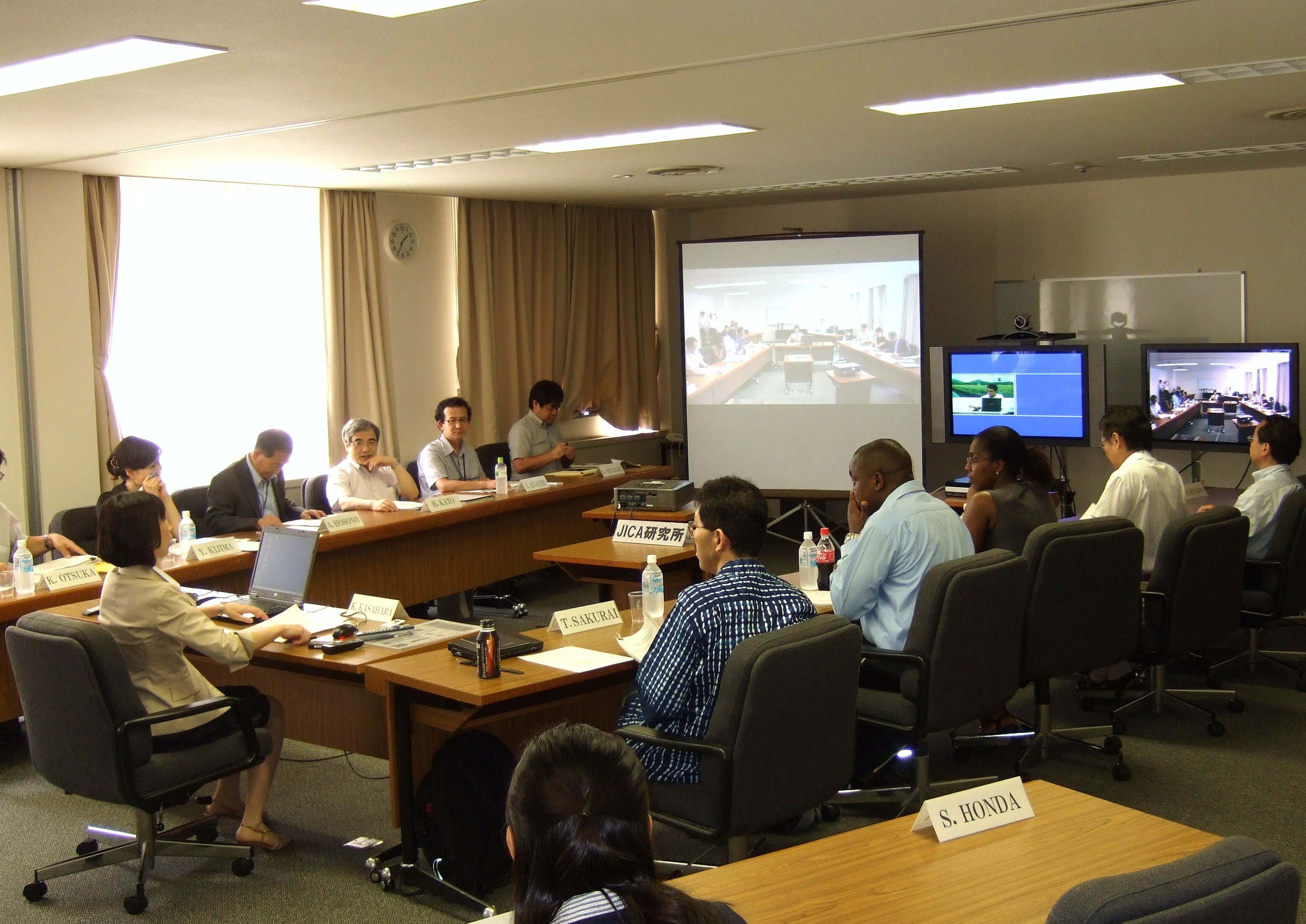 JICA-RI organized a workshop on the research project "An Empirical Analysis of Expanding Rice Production in Sub-Sahara Africa" on July 7, involving a teleconference connection to the International Rice Research Institute (IRRI) in the Philippines as well as to the overseas JICA offices in Tanzania and the United Kingdom.
The research goal is to analyze the effectiveness of assistance provided by the international community in rice development, as part of efforts to tackle food and poverty issues in Sub-Saharan Africa, and to make a proposal from an academic perspective concerning the efficient transfer of rice production practices.
In the workshop, researchers reported on the progress of rice production projects conducted in five countries of Sub-Saharan Africa and shared their analyses of data on the projects, while also learning from one another to improve their analytical methods.
There were presentations by the following seven researchers: Keijiro Otsuka, project leader and professor at the National Graduate Institute for Policy Studies (GRIPS), Kei Kajisa, associate professor at the GRIPS, Millicent Bakuyeya, overseas student from Ghana, Timothy Njeru, overseas student from Kenya, Yuko Nakano, postdoctoral fellow at the IRRI, Takeshi Sakurai, professor at Hitotsubashi University and Yoko Kijima, associate professor at the University of Tsukuba.
Related Research Area: Growth and Poverty Reduction
Related Research Project: An Empirical Analysis of Expanding Rice Production in Sub-Sahara Africa
| | |
| --- | --- |
| Day | July 07, 2011(Thu) |
| Place | JICA Research Institute |