The relative success of state-building in East Asia can teach lessons on political and socio-economic key factors, said Keiichi Tsunekawa, Director of JICA-RI.
Tsunekawa shared these views on state-building with an audience of over 200 academics, politicians and development practitioners at a Japan-Germany symposium held at JICA-RI on November 7. JICA and two German organizations, Konrad Adenauer Stiftung and the Japanese-German Center Berlin, sponsored the event, entitled "Challenges of State-building in Asia: Global Responsibility in Development Cooperation of Japan and Germany." The symposium focused on the two countries' roles in the state-building of Southeast Asia and Afghanistan, and explored more effective international cooperation.
Presenting a conceptual framework for successful state-building, Tsunekawa stated that two things are involved: A country's institutions must properly function through well-trained, capable management in order to deliver basic security and social services, and arbitrate the interests of the people. The other condition for state-building is state legitimacy, Tsunekawa said, which is built on the satisfaction of people's context-specific aspirations along with their basic needs.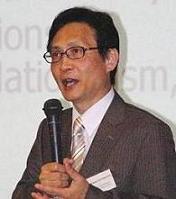 JICA-RI Director Tsunekawa
Politically, East Asia's state-building and subsequent democratization have progressed relatively smoothly and, surprisingly, with little violence compared to other parts of the world, said Tsunekawa. He attributed this to, among other reasons, relatively well-organized bureaucracy, coherent elite behavior and semi-authoritarian but efficient leadership.
The Director pointed out that other lessons East Asia has to offer stem from its economic and social history. He cites the accomplishments of the Green Revolution, small farmer-based agriculture, the switch in industrialization and trade policies (from an import substitution platform to an export oriented one), and the effective use of external aid.
In the symposium's keynote speech, JICA President Sadako Ogata highlighted a need for greater international cooperation among nations to aid in Asia's development and tackle increasing global issues in a time of "unprecedented crisis." Due to the myriad of differences among countries and backgrounds, Ogata pointed out that no one model of state-building can satisfy all.
Sarah Cliffe, the World Bank's Director of the "World Development Report on Conflict, Security and Development," and Stefan Friedrich, Director of the Konrad Adenauer Stiftung (KAS) Asia Department, both chaired discussion sessions. Friederike Bosse, Secretary General of the Japanese-German Center Berlin (JDZB), gave an opening speech. German-based KAS is a think-tank, consulting and political foundation. JDZB, also based in Germany, promotes cultural and information exchange between the two countries.
■Agenda & Paper
"Click on name to view presentation"

November 7





9.30 - 9.45

Welcome/Opening remarks
Mr. Shiro SADOSHIMA (VP, JICA)
H. E. Dr. Volker STANZEL (Ambassador designated of Germany to Japan)
Dr. Friederike BOSSE (Secretary General, JDZB)


9.45 - 11.45
Session 1:
Germany and Japan's roles in state-building process
Chair: Dr. Stefan FRIEDRICH (Dir., Asia Department, KAS)


Keynote
Dr. Sadako OGATA (President, JICA)


Remarks
Hon. Ms. Chinami NISHIMURA (Parliamentary Vice-Minister for Foreign Affairs)
Hon. Ms. Birgit SCHNIEBER-JASTRAM (Member, the European Parliament, Committee on Development Cooperation)
Minister Ali Ahmad JALALI (Distinguished Prof., Near East South Asia Center for Strategic Studies/Former Interior Minister of Afghanistan)

Comments
Mr. Noriyuki WAKISAKA (Editorial Writer, The Asahi Shimbun)
Mr. Matthias NASS (Deputy Editor-in-Chief, DIE ZEIT)
Dr. Heinrich KREFT (Sr. Foreign Policy Advisor, CDU/CSU Group of the German Federal Diet)

Panel discussion/Open discussion


11.45 - 13.15
Lunch


13.15 - 15.00
Session 2:
German and Japanese development cooperation in and with Southeast Asia
Chair: Ms. Sarah CLIFFE (Special Rep./Dir., World Development Report on Conflict and Fragility, the World Bank)


Presentations
Prof. Keiichi TSUNEKAWA (VP/Dir., JICA Research Institute)
Mr. Wolfgang SCHMITT (Managing Dir., GTZ)
H. E. Mr. Prasidh CHAM (Sr. Minister and Minister of Commerce, Cambodia)
Mr. Jusuf WANANDI (Board of Trustees Vice Chair, CSIS Foundation, Indonesia)

Panel discussion/Open discussion


15.00 - 15.15
Coffee break


15.15 - 17.15
Session 3:
German and Japanese development cooperation in and with Afghanistan
Chair: Mr. Hiroshi KATO (Deputy Dir., JICA Research Institute)


Presentations
Mr. Uwe OHLS (SVP Asia, KfW Development Bank)
Mr. Takehiro KAGAWA (Deputy Dir. General, Middle Eastern and African Bureau, MOFA)
Mr. Masataka NAKAHARA (Dir. General, South Asia Dept., JICA)
Mr. Alastair J. MCKECHNIE (Dir. Fragile and Conflict-Affected Countries Group, the World Bank)


Comments
Mr. Martin KIPPING (Political Expert on Afghanistan, Div. on Afghanistan, Pakistan, Bangladesh, Ministry of Economic Cooperation and Development, BMZ)
Minister Ali Ahmad JALALI (Distinguished Prof., Near East South Asia Center for Strategic Studies/Former Interior Minister of Afghanistan)

Panel discussion/Open discussion


17.20 - 17.45
Wrap-up/Closing remarks
Prof. Keiichi TSUNEKAWA (VP/Dir., JICA Research Institute, JICA)
Dr. Colin DURKOP (KAS country rep. to Japan and Korea, Seoul)


17.45 - 18.00
End of session
| | |
| --- | --- |
| Day | November 07, 2009(Sat) |
| Place | JICA-RI |