"Global Thematic Consultation Meeting: Conflict and Fragility and the Post-2015 Development Agenda" was held in Monrovia, capital of Liberia, from November 29 to 30. Co-organized by the United Nations Development Programme (UNDP), UNICEF, the United Nations Peacebuilding Support Office (UNPBSO), and the United Nations Office for Disaster Risk Reduction (UNISDR), this meeting constituted the second round of four consultations for issues on "conflict and disaster." The meeting brought together some 80 participants, including officials from governments and international organizations, experts, researchers, and representatives of civil society. From JICA-RI, Research Associate (RA) Ryutaro Murotani gave a presentation on the research outcomes on conflict and peace building at the Institute, as well as JICA's initiatives in its operations.
As the 2015 target year for the MDGs approaches, the debate on the framework for a new development agenda for 2015 and beyond has blossomed. With respect to so-called "Post-2015 Development Agenda," JICA-RI also launched the "Evidence-based Analysis for Post-2015 Development Strategies" this August, where the Institute studies the significance of inclusiveness and resilience within the framework of the new development agenda, drawing on a review of the achievement of the MDGs.
Regarding the "Post-2015 Development Agenda," UN Secretary-General Ban Ki-moon set up the High-Level Panel of Eminent Persons this July, planning to release a report in May 2013, while UNDP takes an initiative in conducting global consultations through national and thematic consultation meetings as well as "global-local conversations" online, in order to synthesize views from a wide range of participants. This event, focusing on "conflict and disaster" among the 11 thematic consultations, developed discussion mainly on conflict and fragility in Africa.
Murotani, in his presentation, introduced the content of JICA-RI's "Evidence-based Analysis for Post-2015 Development Strategies" that has been implemented, and touched on the relevance of the human security concept as a guiding principle. He also highlighted the importance of objective and subjective horizontal inequalities (HIs) and political institutions based on the research results from the "Preventing Violent Conflict in Africa." He lastly referred to the assistance to the livelihood improvement and job-creation efforts that JICA is engaged in, as well as the introduction of evaluation guidelines in conflict-affected countries.
Although a goal relating to conflict or peace is not included in MDGs, a number of participants acknowledged that the conflict is a major obstacle against the MDGs achievement, addressing that this issue should be incorporated into the framework of the new development agenda. At the same time, inequality, governance, growth, livelihood improvement, and other issues were raised as challenges to peace, along with many voices from African participants on the significance of human security. They also discussed the Peacebuilding and Statebuilding Goals (PSGs) that are currently being drafted among the fragile states. The UN Development Group (UNDG) will compile the results of this consultation and submit to the High-level Panel as voices of the people around the globe.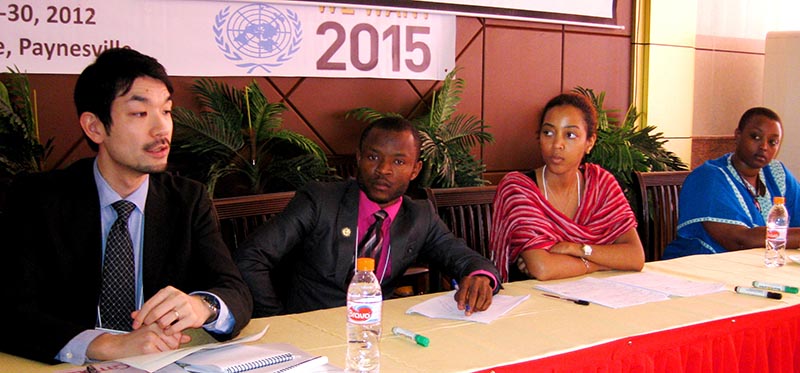 Murotani Research Associate(left)