From October 9 to 14 for six days, the Annual Meetings of the International Monetary Fund (IMF) and the World Bank Group will be held in Tokyo. This is the second time since 1964, the year of the Tokyo Olympics, when the Annual Meetings were held first in Japan. This year is also the 60th anniversary that Japan became a member state of the IMF and the World Bank.
This Annual Meetings will meet a number of government officials of member states including Japan. At Program of Seminars (POS)—a series of high-level seminars—the panelists from governments, private sectors and academia will discuss the important development agendas to make intellectual contribution.
On October 12, the World Bank and JICA will co-host a seminar titled, "Can Government Policies Lead to Good Jobs for Development?" as part of the POS.
Referring to the interaction between jobs—the core agenda of World Development Report (WDR) 2013—and economic growth, JICA-RI has been conducting collaborative research on Bangladesh with BRAC, the world's biggest NGO, and the Bangladesh Institute of Development Studies. The outcome of this collaborative research is published as a Companion Volume of WDR 2013: Jobs.
In this POS event, JICA President Akihiko Tanaka will give his opening remarks; JICA-RI Visiting Fellow Yasuyuki Sawada (Professor of the University of Tokyo) and Dr. Mahabub Hossain, Executive Director of BRAC in Bangladesh, co-authors of the 2013 WDR Companion Volume, will serve as panelists.
In one of the side events on October 15, L'Agence Française de Développement (AFD), Brookings Institute and JICA plan to hold a joint seminar titled, "International Support to Arab Economies in Transition: Towards Inclusive Development after the Arab World." Research Fellow Takako Yuki has taken part in this research project.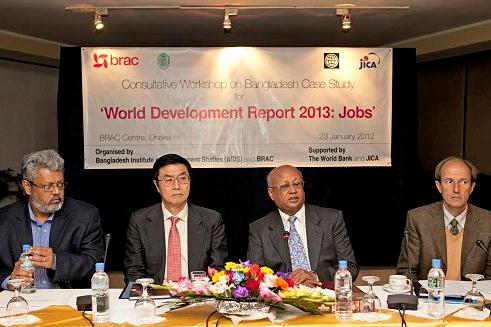 Workshop on collaborative research held in January 2012
From right,Martin Rama(Director, WDR2013), Dr.Mahabub Hossain(BRAC),
Prof.Keijiro Otsuka(WDR2013 Survey Team/NATIONAL GRADUATE INSTITUTE FOR POLICY STUDIES),
Dr.Binayak Sen (Bangladesh Institute for Development Studies)
| | |
| --- | --- |
| Day | October 09, 2012(Tue) - October 14, 2012(Sun) |
| Place | TOKYO INTERNATIONAL FORUM and other places |