The area of security and development is relatively new in academic and policy terms, and a challenge we have been grappling with for a long time, said Special Representative & Director of the World Bank World Development Report (WDR) 2011, Sarah Cliffe.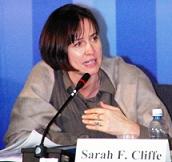 For this reason, members of JICA-RI, Cliffe and other distinguished delegates participated in a half day-long workshop at JICA-RI on April 2 aimed at uncovering issues related to conflict, security and development - the focus of WDR 2011. The outputs from the conclusions of the workshop will be reflected in the final version of the WDR 2011, which is currently under preparation.
The workshop, co-hosted by JICA and the World Bank and with support from the Japanese Ministry of Foreign Affairs, was comprised of two sessions. The first focused on cross-border threats and regional initiatives. Secretary-General of ASEAN Surin Pitsuwan and other panelists raised points on the benefits of regional organizations like ASEAN in combating both violent and non-violent cross-border threats and how regionalization has been developing in response to recent world trends. The roles of governments, regional organizations and the international community in preventing threats and bolstering regional security, particularly in more "fragile" countries, were among the topics discussed.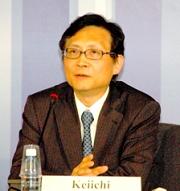 JICA-RI Dir. Tsunekawa
The second of the two sessions centered on state capacity development, stability, political leadership and international versus local norms, standards and practices. JICA-RI Director Keiichi Tsunekawa presented a conceptual framework of analysis referring to experiences of state fragility reduction in East Asia and from the relative economic successes of the "East Asian Miracle." He mentioned some socio-political characteristics of Asian society that have ultimately led to the region's current, relatively-stable state, such as general tolerance of political opposition, manner of economic competition and tendency toward more secular, national identities. He also cautioned on the way in which political and economic reforms should be carried out, to which Cliffe cited timing and sequencing as the critical points.
On the event as a whole, Cliffe stated that "...[the World Bank] will very much be taking into account the presentations and comments made." Among the takeaways, she highlighted the mutual benefits in aid systems, the adoption of institutional norms with additional local context and the interdependence of economies with regard to developing countries coming out of the economic crisis as points of particular interest for the WDR.
Building on the discussions of the Tokyo seminar, JICA and the World Bank co-hosted another meeting with ASEAN in Jakarta on April 5 and 6 to solicit opinions of a wider community as additional feedback for the WDR. The WDR team will have another consultation in Beijing in September, with a slated release next year. JICA members have also provided background information for the WDR through a recently-published working paper.
RELATED RESEARCH AREA: Peace and Development

The JICA April 2 workshop in Tokyo provided feedback for the World Development Report 2011
| | |
| --- | --- |
| Day | April 02, 2010(Fri) |
| Place | JICA-RI |
| Organizer | Japan International Cooperation Agency (JICA), The World Bank |