Increasing competitiveness of the private sector is a key to achieving faster economic growth in Africa. This was the consensus at a senior policy seminar on trade and competitiveness held in Nairobi on May 7. Hosted by JICA, the World Bank and the African Economic Research Consortium (AERC), the seminar was attended by African ministerial level policy-makers, development experts and leaders in the private sector.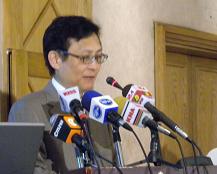 In his opening speech, JICA-RI Director Keiichi Tsunekawa stated how domestic enterprises responded to the changing economic environment was vital to explaining the development successes of East Asia. He believes understanding the dynamic process of enterprise growth in Africa is indispensable for JICA and other partners to better identify areas of further cooperation.
The one-day event was comprised of three research-based discussion sessions followed by a policy roundtable discussion. The first session presented the findings of the Africa Competitiveness Report 2009 and proposed an integrated set of policy initiatives to enhance the productivity of African enterprises. The second and third sessions centered on assessments of special economic zones and naturally-formed industrial clusters in Africa. The key message here was how best to link micro and small scale enterprises to regional and export markets as well as to harness their managerial capabilities.
How to place greater priority in regional integration while relying relatively less on export markets was the focus of the policy roundtable discussion in which JICA-RI Research Fellow Megumi Muto contributed. What role the government sector should play and how to integrate policies on a regional level while aligning "soft and hard" factors such as institutional frameworks and infrastructure were fervently debated in this session.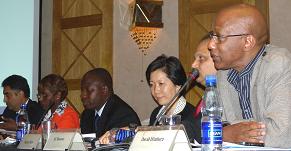 In conjunction with this seminar, JICA, the World Bank, AERC and the Foundation for Advanced Studies on International Development jointly produced a policy brief detailing findings and policy recommendations to increase competitiveness and opportunities in Africa's private sector. Muto's research contributes to a part of this brief.
RELATED RESEARCH AREA: Growth and Poverty Reduction
| | |
| --- | --- |
| Day | May 07, 2010(Fri) |
| Place | Nairobi, Kenya |
| Organizer | JICA, the World Bank, the African Economic Research Consortium (AERC) |
| Related File | |