JICA-RI's research fellow Jean-Claude Maswana and his research contributors gathered in Paris for a workshop on June 17. Organized by JICA-RI, this was the final opportunity for five researchers, based at international institutions and universities in Japan, Europe and Africa, to share the updates on their research progress for the project: Exploring Areas of Potentials Sources of Growth for African Economies, before publishing. [Go to the past article related to this research.] A total of six papers are currently being prepared, with particular focus on the region's growing economic interactions with Asia, and authors exchanged comments, integrated understandings of common concepts and types of analysis methods to be applied for consistency, and fine-tuned their papers in order to propose policy implications in the near future.
JICA France office representative Hitoshi Shoji opened the event with his welcome remarks, which was followed by a presentation on an overall outlook of Africa's economy this year by African Development Bank's Dr. Richard Schiere. For the rest of the day, the participants presented their preliminary study results along with the current status of their papers whose titles include: "International Entrepreneurship in Africa and the Impact of Transport Costs," "Africa's Industrial Upgrading and the China-factor," and "East-Asian Drivers' Demand of African Commodity and Growth Potentials in Africa."
Among various findings discussed at the workshop, Maswana, who leads the project from Tokyo, points out several noteworthy facts based on a comparison of growth engines (components of economic growth) of Africa and of Asia, and another on trade compositions of Africa and developing Asia against China.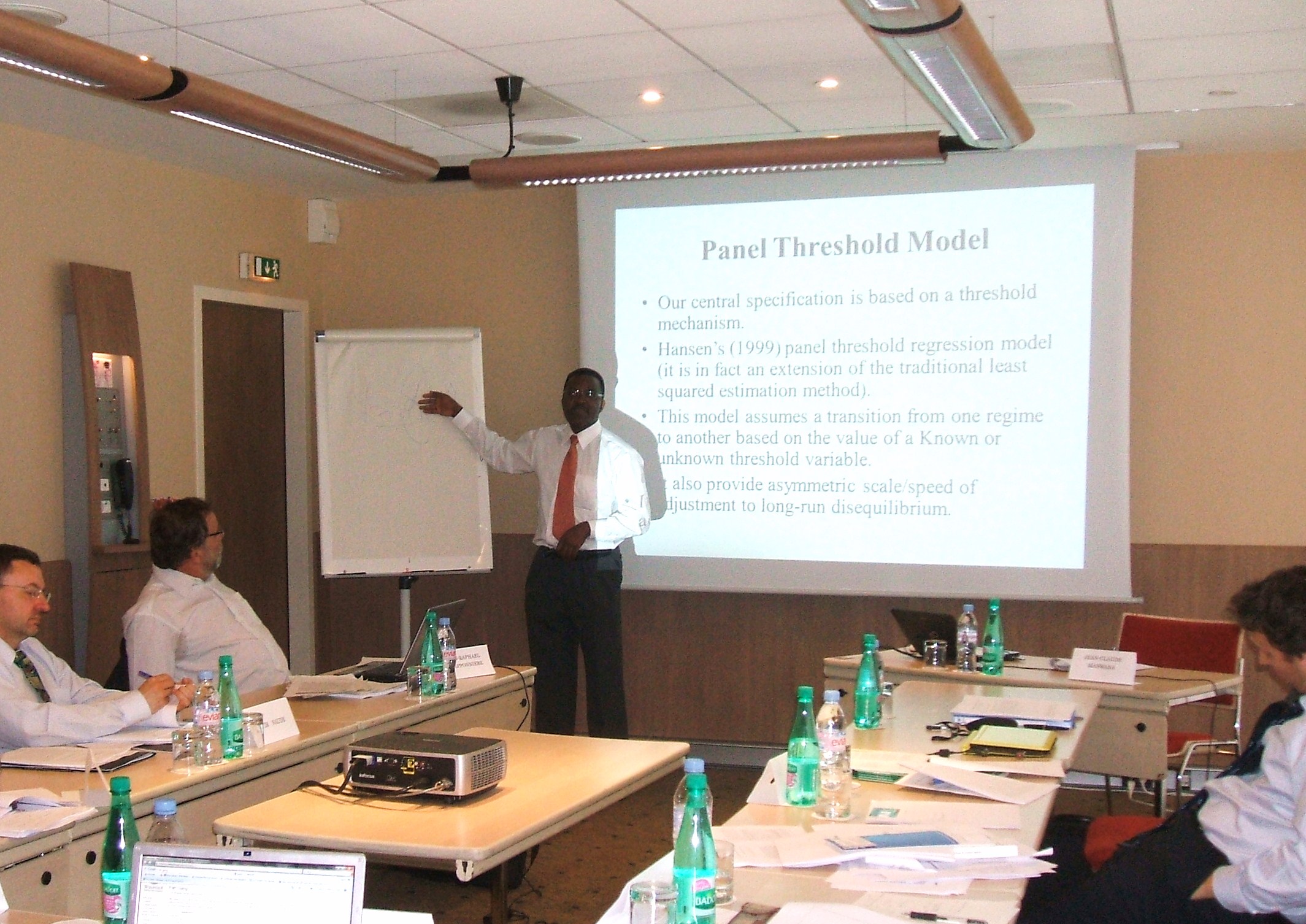 J C Maswana giving a presentation
An analysis shows major growth engines of Asian economies, especially China's, are exports (manufacturing products) and investment, while those of African economies are exports and domestic consumption. Africa's exports heavily depend on primary commodities such as oil, which require no advanced skills and promote little technical innovation and industry development. As it's also demand-driven, it would falter once the demand wanes. Domestic consumption is not sustainable in the long run as it needs a well-built financial system to support and push consumers' active spending, which is not usually the case in Africa.
A close look at the trade compositions tells a similar story. In the past 10 years, Africa's export to China has increased dramatically. Yet the composition remains the same with primary resources (such as mineral) high, whereas that of a country like Vietnam has evolved from high on primary resources to more on technology-intensive materials, consequently promoting technical spillover and further economic growth.
Maswana says, "These are troublesome findings as both show unhealthy patterns of economic growth," implying African economies need to shift its core to manufacturing, which would raise skills of their workforce, spur technical advancement and lead to greater economic expansion.
For the project, Maswana has also been doing research on China's special economic zones in Africa, particularly in Mauritius and Zambia, to learn their potentials for success and differences from the ones done by African countries themselves. More information is needed to make a full analysis on this topic at this point, he says.
The project team aims to finish writing five papers by the end of July, and the last one by late September.
Related Research Area: Growth and Poverty Reduction
| | |
| --- | --- |
| Day | June 17, 2011(Fri) |
| Place | Paris, France |
| Organizer | JICA Research Institute |
| Language | English |